Summary
Income Guarantee Program Premium specialty coffee 1 on 1 Support and Launch Program Private Company - not answering to shareholders!! 50k upfront + equipement finance! Up and running in 8 weeks!
Location Details
Melbourne - please enquire
Enquire for territory maps!
Marketing support
- Google, Google and Google! We're top of Page 1 for most searches. (We spend tens of thousands on SEO & Adwords to ensure your business is 'up in lights' on web searches)
- We have a dedicated 24/7 call centre managing events off 1300 number and website.
- A website listing on Xpresso.com.au putting your business location up in lights!
- Each mobile cafe is supplied with an A-frame, umbrellas and breeze barriers.


Training provided
We have an extensive one on one 3 week training programme which is based in your territory for two weeks and one week in our head office in Brisbane (flights/accommodation included in entry price).

The two week in-territory training gives you the confidence to take on the business while helping you build your custoimer base. We are so confident in our systems that we guarantee 70-80% of your customers by the end of your second week.

INCOME GUARANTEE: $2500 gross turnover per week for first 4-weeks.
Skills
A positive headspace!
Grit & determination.
No café or coffee experience - just your friendly personality! If you follow the comprehensive Xpresso Mobile Café training system and procedures, you will be successful. We will support you and help fill any skill shortcomings.

Length of Agreement
7 plus 5 Years
About the Opportunity
The critical points of difference with the Xpresso Mobile Cafe franchise system are:

- OUR COFFEE! Our in-house roaster has 20+ years of roasting expoerience to ensure our licensees have access to products that are of consistent premium quality directly & ethically sourced from the farms!

- HUGE TERRITORIES Your Xpresso Mobile Café territory will have multiple 'focus areas' of business parks, lite industrial & commercial precincts. One van simply won't be enough! - we want to give you the opportunity to capitalize on the territory and enjoy through launching your 2nd van in the future.

- ONLINE SUPPORT COMMUNITY With our secure franchisee portal, available on smartphone you can get the support you need to discuss, innovate, post and share with both the Xpresso HQ team and Franchisees all over Australia giving you the community feel that is Xpresso!

- BE A PART OF SOMETHING BIGGER THAN YOURSELF! Our cups and lids are 100% carbon neutral (sustainable) and our coffee beans are ethically sourced directly from farmers who are paid properly! Also, Xpresso Mobile Cafe funds the running of a not-for-profit mobile cafe that directly supports victims of domestic violence, our youth and refugees. Pretty cool huh!

- WE ARE A PRIVATE COMPANY run by family values - rather than a large publicly listed company ultimately driven by public shareholder values. Our key competitors are owned by a large multinational ASX listed company with multiple lines of management that your franchise fee would be paying for rather than helping you grow your business!

- FLEXIBILITY WITH FOOD OPTIONS. We are big believers of supporting local community and family owned businesses so for your food options, we will help you connect with local bakeries and other suppliers to assist with supply of croissants, muffins, banana breads as well as other wraps, rolls and sandwich products. Our food options are non-heated and individually wrapped. Cutting out the middle man means freshness and more profit for you!

- NO NASTY/NOISY GENERATORS! We power our mobile cafés using inverter/battery and gas. No more smelly, noisy and expensive generators to maintain.

- PLENTY OF EVENTS! Unlike our competitors, we don't charge you for the events we give you - they are a bonus service we offer and include them in your weekly fixed administration fee (franchise fee) In fact, we receive on average 20 events a day!!


Year Business Established
2013
Year Franchising Commenced
2013
History
Darren Schultz, founder of Xpresso, was the first person in Australia to put a coffee machine in the back of a van in the mid 1990's. As a pioneer of the industry we know what works and what doesn't!

Relaunched in 2013, Xpresso Mobile Café set out to become the best (not the biggest) mobile cafe group in Australia. We continue to set the standard for value, support, van fitout and quality of coffee for our licensees. But don't ask us... ask them!

Awards
2017 - 'TopFranchise' Top 10 Franchise Winner Award (in 3 categories)
2018 - 'TopFranchise' Top 10 Franchise Winner Award (in 3 categories)
2019 - 'TopFranchise' Top 10 Franchise Winner Award (in 2 categories)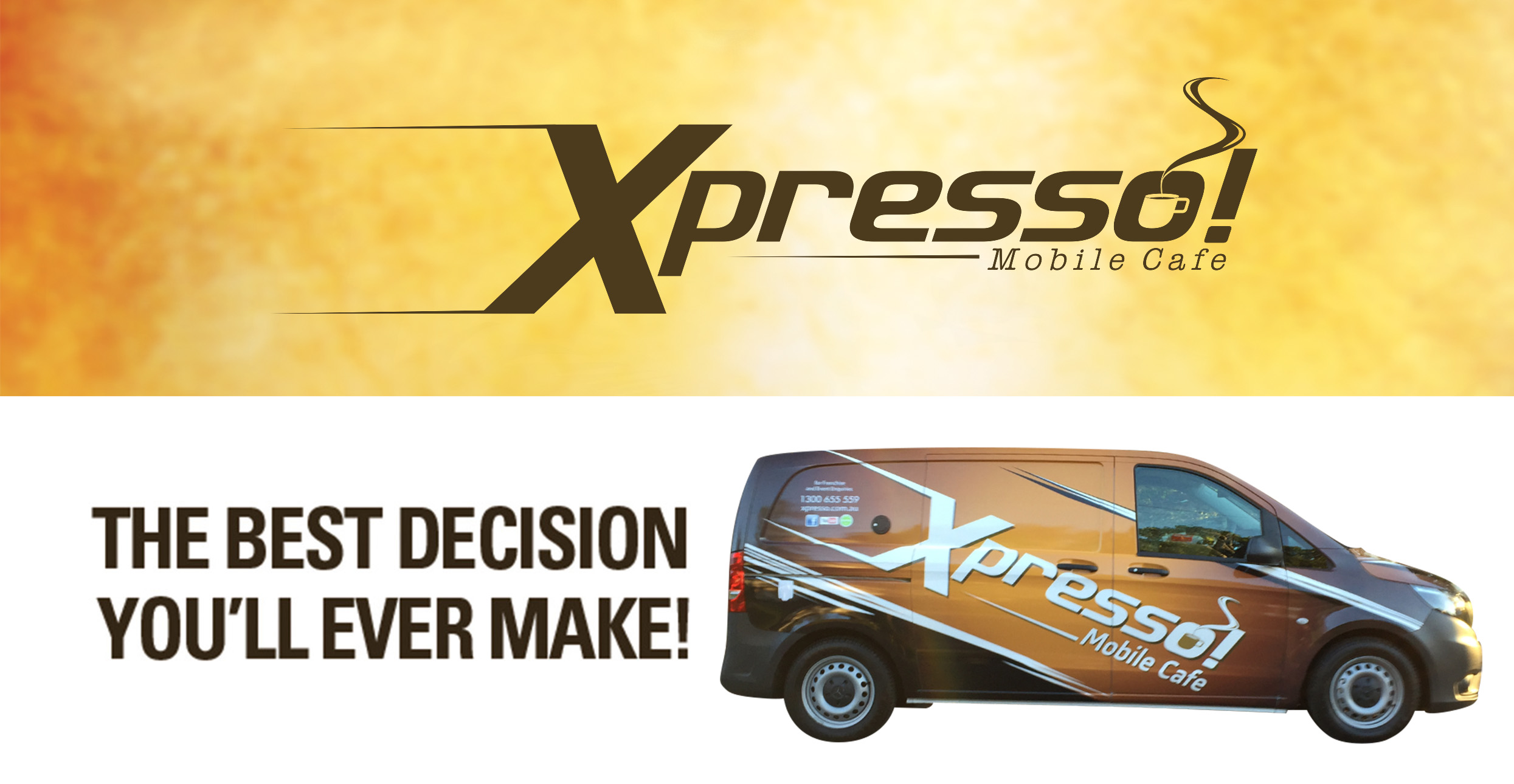 Find out more at the Xpresso Mobile Cafe Franchise Information page