Summary
Join Blue Wheelers Wash, Clip & Groom with this fully established Mt Waverley business. Running for almost 10 years with an exceptional client list. Your Big Blue Dog and all training is included.
Location Details
Mt Waverley is a prime location for this mobile dog grooming business. Already fully established with a long list of established clients. Mt Waverley is filled with families, dogs, schools, parks, shopping strips and loads of opportunity.
Marketing support
Our iconic Big Blue Dog Mobile Salon does much of your marketing for you as you drive around in your own territory. Throughout your training you will be taught a specific set of marketing tips that will enable you to establish and maintain your business, including your own website profile with online booking and other online opportunities; direct marketing and a fully detailed six month marketing plan!
Training provided
Your training is the absolute key to your successful business. Training will be completed at the Blue Wheelers Training School as well as on road training which will cover every aspect of dog washing, grooming and behavior. In addition to the necessary dog grooming skill set, we also spend serious time on teaching you how to run your own business. You will be trained on our own Blue Wheeler management software package, which will be an important part of running your business the Blue Wheeler way – the way to success!




Skills
There are no specific dog grooming skills required as you will be fully trained, however, a passion for dogs is a pre-requisite as well as the ability to talk on the phone and secure appointments through confident delivery of the Blue Wheelers service. This business thrives under the ownership of a confident, happy, go getter who loves spending time with their furry friends and getting to know their pet owners.
Length of Agreement
Blue Wheelers offers a 10 year contract which can be renewed for a further 10 years, if desired, for the cost of a stamp! This provides you with a great deal of security for the investment you have made in your future. You are able to sell your business at any time within the guidelines of your franchise contract.
About the Opportunity
With more and more being invested in family pet-care every year, the potential of a Blue Wheelers business is only set to grow! We receive approximately 6,000 new calls per month nationally for dog grooming services through our online booking service and national marketing. Together our franchisees care for approximately 45,000 dogs each month, with average earnings per Franchisee of between $1,100 and $2,500 per week.

There are millions of dogs in Australia and Blue Wheelers is the No 1 choice when it comes to washing and grooming these dogs. If you have a passion for dogs, dream of being your own boss in the ever growing pet industry, want to find the ideal income and lifestyle balance, Blue Wheelers is where you will feel right at home.

Our Blue Wheeler operators come from all walks of life: financial; retail; corporate; legal, logistics. All come to us with one common goal – to be truly independent; earn good $'s and enjoy a better lifestyle!

At Blue Wheelers Wash, Clip & Groom we are all about changing lives for the better. From a customer perspective, this means a clean and happy dog at home; from a prospective franchisee's view point – it means, we provide an affordable opportunity into your own business without the stress factors caused by going it alone without any support. We have a proven business model that works. You will be trained to follow this successful formula leading to your own success. You will enjoy support across Australia from local management; and our professional national team of Groomers will also offer encouragement along the way.



Year Business Established
2007
Year Franchising Commenced
1996
History
Established in 2009, Lawerence has been grooming family pooches in and around Mt Waverley for almost a decade. There is a much loved loyal customer base. Bookings are already in the calendar, no cold calling. Made up with on-going regular customers who book in regularly.
Awards
Blue Wheelers has been featured in BRW Magazine's Fastest Growing franchises for 7 years running.

We are most proud of our many franchisees who have received their 10 Year pet industry recognition Award.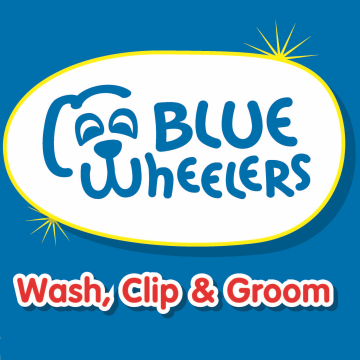 Find out more at the Blue Wheelers Franchise Information page