Internal Ref: Adelaide-VTX
Summary
Coworking is the Future of Business | The days of working in a cramped office are over for many people in today's mobile world | Be part of the revolution | Australias first co-working franchise.
Marketing Fees
1% of gross
Location Details
Venture X will help you define your marketing area, locate your site and negotiate your lease terms. We have the expertise and the data to ensure that the location you choose is a magnet for co-workers in your area.
Marketing support
We provide innovative marketing plans that include a multi-channel approach, focusing on your local market and is designed specifically to pre-fill as many spaces as possible before your doors open.

Grand opening planning assistance, PR campaigns, online marketing solutions, printed materials and event planning are just some of what you can expect from our marketing team.

After your launch period, the cooperative advertising fund kicks into gear with ongoing solutions to drive traffic to your location, even after your location is full.
Training provided
Our training process is comprehensive and ensures that you have access to the tools that will prove essential for success.

You will begin your journey as a Venture X franchisee with a full week of in-depth training: 3 days at our world headquarters in West Palm Beach, Florida and 3 days at our flagship location in Naples, Florida.

Skills
There is no specific experience required, although some business sense or related background can only help. Many of our existing franchisees were not experts in their field when they started.

Remember, we provide thorough training and ongoing support. Our franchisees are never forced to 'go it alone'.
Length of Agreement
35 years. We want to give you the confidence to grow and build your business, without having to go through costly renewals and allowing you to build your brand in your own market.
About the Opportunity
Venture X is a collaboration that brings together some of the best business minds in the industry.

The days of working in a cramped cubicle are over for many people in today's mobile work world. That has led to a rise of coworking spaces that allow for environments that are collaborative, inspiring and stimulating.

The Future of Coworking:

By 2020, The Bureau of Labor Statistics estimates 65 million Americans will be freelancers, temps, independent contractors or entrepreneurs, making up a full 40% of the workforce. Venture X provides an attractive opportunity for those workers who want to benefit from a rich work community.

Venture X is also an attractive franchise business model. Like other "sharing" industries, Venture X franchisees simply provide the modern work space and members buy private memberships giving them access to open areas or private offices, whichever they prefer.

Multiple Revenue Streams:

Many business models today are built on this collaborative model including transportation and vacation destination sharing. Venture X is at the forefront of this growing trend. Venture X's unique combination of open space mixed with higher revenue private offices allows for higher income opportunities. Additional revenue can be generated from event hosting to further increase the bottom line of each location. Additional revenue can also be generated from the additional business services that will be provided.
Year Business Established
2012
Year Franchising Commenced
2016
History
Venture X was founded by entrepreneur and real estate investor, David Diamond and his son Brett. As a supporter of tech startups, David saw that coworking spaces increased the success of those businesses, while creating a social experience young entrepreneurs desired. David's son, Brett, was also inspired by the coworking concept, and in 2012 the two founded Venture X together in Naples, Florida.
Awards
United Franchise Group's many awards and accolades:

Ernst & Young Entrepreneur of the Year

Entrepreneur Magazine's Franchise 500 List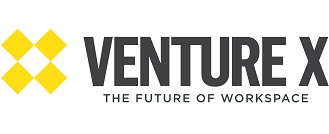 Find out more at the Venture X Franchise Information page