Internal Ref: Gawler DCS
Summary
United and Pie Face presents a new multiple income opportunity with currently over 400 sites nationally! Be part of Australian-owned petrol giant, United and the Pie Face Business Opportunity.
Location Details
Gawler is the oldest country town on the Australian mainland in the state of South Australia.
Marketing support
United and Pie Face provides a fully managed promotional program for our Agents on a monthly basis. This includes shelf tickets, wobblers, external banners, promotional materials and external artworks as well as having updated digital menu panels. Commission Agents will benefit from world-class marketing support, supported by national marketing efforts as well as via their agency.
Training provided
All Commission Agents will receive detailed training programs to effectively and efficiently learn how to operate the convenience store, petroleum segment and the Pie Face offering. Commission Agents will also receive practical training and support from the head office.
Skills
United and Pie Face are searching for Commission Agents who believe in hard work, obtain the willingness to learn, adapt and be flexible with the working hours, manage and delegate tasks, and always maintain cleanliness within the store. They will also need to be hands-on when handling products including the transfer of uncooked pies into the ovens, understanding how to operate all machinery and tech such as the oven and cabinets, controlling the food safety of all products placed on display and knowing how and when to upsell products.
About the Opportunity
Get the best of both worlds – operating the iconic Pie Face brand & convenience store to drive your in-store food & beverage sales, along with a commission-based fuel business.

By joining the United Retail and Pie Face network you will enjoy the following benefits:
• Alignment with strong, successful brands and a fast-growing network
• Access to United's national buying power
• Exclusive access to Pie Face products
• Quality fuels and national fuel card offer
• Strategic Marketing Support across advertising, digital, merchandising and sponsorship
If you've dreamed about owning your own business but want the security and expertise of a successful and established operation behind you, this could be just the business opportunity for you. So if you are driven, ambitious, highly motivated and thrive on working in the food and hospitality space, we want to hear from you!
Australia's Favourite Pie
Pie Face is a unique brand that is easily identified by its signature pies. The brand is well-known around Australia and is a familiar name that can be seen along popular roads, adding extra services to the United Service Stations across the country.

Furthermore, there will be opportunities for future Pie Face drive-thru locations and potential new developments.

Low Risk - Multiple Income Business
United and Pie Face is an easy to operate and simple business model with low setup and entry costs obtaining minimal risks. Commission Agents will receive incentives based on a monthly performance basis. United and Pie Face commission agents will be able to earn potential profits from multiple income streams such as via daily fixed fuel commissions, selling of quality-controlled Pie Face products and approved shop products. United and Pie Face also takes care of the stock-take and invests in the equipment that will be used by the Commission Agent. There is no additional capital expenditure required.

Minimum Required Food Experience:
Provide evidence of being the sole manager for a food business (not an assistant manager or shift manager), for more than 12 months within the last 5-year period.
Provide evidence that the person understands food handling and has an affinity for food.
Provide evidence that the person has high standards for cleanliness and personal grooming.
Can provide training certificates and referees to support their food business experience. (Working in a Petrol Roadhouse is insufficient).
Demonstrate their love of good properly prepared food.
Year Business Established
1993
History
United Petroleum is one of the fastest growing independent companies in Australia, specialising in the retail and wholesale fuel markets; convenience stores; Pie Face and ethanol manufacture; generating employment for over 2,500 Australians. They are committed to delivering the best convenience, food & fuel experience for all of their customers.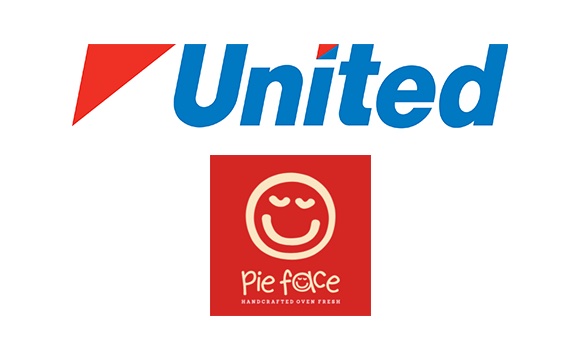 Find out more at the United and Pie Face Commission Agency Licensing & Distribution Information page