Summary
First time in 20 years offered for sale!. This long established and reputable business comes with everything you want to have a good start. Solid customer base, strong sales, great opportunities...
Location Details
758 North East Road
The business is located on North East Road and in close proximity to the retail and bulky goods precinct of Modbury. Great car parking and loading facilities on site. Fantastic exposure to the busy North East Road.
Marketing support
Our marketing team's goal is to drive customers into our franchisees' stores.
We are working with all franchisees individually to help them with their local area marketing campaigns.
Marketing campaigns like TV, Radio and sporting events as well as national catalogues are coordinated by the team. The brand is promoted at trade shows and exhibitions across the country.

Training provided
Our unparalleled training will give you the tools to operate your business, even without retail experience.
The training consists of three parts and includes store operations, retail management and sales and customer service. You will receive one week comprehensive training in house and further two weeks in a store environment.
As you move forward, there will be ongoing training on your business management, entrepreneurial abilities and workshops to enhance your skills. Furthermore we meet regularly for conferences and state meetings.

Skills
We are looking for customer friendly people, who understand the importance of building long lasting business relationships. You should enjoy a busy retail environment and have the ability to lead your team.
Our franchisee will have a positive outlook and outgoing personality, good family support and a commercial understanding.
If you like to work in a vibrant exciting environment and are willing to embrace a proven business system, Clark Rubber offers the right opportunities for you.

Length of Agreement
10 years (5+5)
About the Opportunity
For sale for the first time in 20 years! The store has been refurbished 3 years ago and is fully computerised. The current owner has built a long standing reputation in the area and is ready to retire. This business has proven track record in sales and performance and operates a mobile pool service. The product offering of everything pools, foam and rubber is a unique business model which suits an astute operator who understand the importance of building long-lasting relationships. The business will be sold with a secured long term lease. The new owner will receive training, marketing assistance and business development support from day one. The current owner is happy to extend the handover and training period for the new operator.
All enquiries will received a full set of 3 year profit and loss reports, as well as a detailed business memorandum.

About the Franchisor:
Clark Rubber is one of Australia's most iconic retail brands, with a proud history spanning the past 70 years, we now have 60 stores nationally.
Our award winning franchise model commenced in 1995 and offers a vibrant product range covering Everything Pools, Foam and Rubber. This together with our business development and support teams, we provide you a great platform to start your own successful business. Clark Rubber can help you building your own retail business, without retail experience required. Combined with our dedicated support team and tailored local area marketing strategies you will receive unparalleled backing.
Part of the success of the Clark Rubber business has been by helping our franchisees right from their initial interest in the business through the store opening and beyond. You are invited to join our network of encouraging, passionate and like-minded people and take control of your own future.



Year Business Established
1946
Year Franchising Commenced
1995
History
Clark Rubber started in 1946 as a partnership between Charlesworth and Clark. By 1951 the brand was listed on the Stock Exchange. In 1961 the name changed to Clark Rubber Stores.
Chris Malcolm started franchising the brand in and opened the first franchised store in Nunawading VIC. By 1998 the 50th Clark Rubber store opened and became one of the most recognisable retail brands in Australia.
Today Clark Rubber has over 60 stores nationally and has further plans to expand the network across the country.

Awards
2003 Franchisor of the Year FCA, (entry capital over $200,000)
2006 Franchisor of the Year FCA, (Australia)
2014 Multi unit Franchisee of the Year FCA, Narre Warren/Moorabbin
2016 Multi unit Franchisee of the Year FCA, Narre Warren/Moorabbin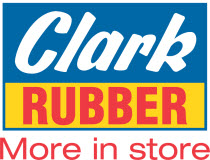 Find out more at the Clark Rubber Franchise Information page