Summary
Exciting retail freight, logistics & parcel shipping franchise •Training & Support provided •High growth eCommerce market •B2B trading hrs •Multi-Revenue streams (24/7 passive income)
Location Details
3/29 O'Sullivan Beach Road, Lonsdale
This business is equipped with systems and resources to handle the movement of goods for customers located anywhere in the world. Lonsdale is the main industrial area of the Onkaparinga region.
Marketing support
PACK & SEND has developed a comprehensive range of tools & resources that assist the Franchisee with growing their business. We take away the time-consuming hassle of developing and producing your digital and non-digital marketing materials.

With ongoing support from your Field Support Manager and the PACK & SEND Marketing Team at headquarters, all your marketing needs are covered locally and nationally.

Training provided
PACK & SEND provides 4 weeks of comprehensive training.

- 2 weeks induction training program at PACK & SEND Headquarters. Learn everything from strategy to technology.
- 1 week practical training in a Service Centre to gain 'hands-on' experience.
- 1 week of on-site training in your own Service Centre.

PACK & SEND's online Operations Manual (PACKNET), regular meetings, webinars and the National Conference are an integral part of ongoing training & knowledge sharing. PACK & SEND's network of experts is always available to help.

Skills
Do you have a knack for business which places the customer experience first? Are you a creative problem solver who goes the extra mile for your customers? Our No Limits culture and patented business model will complement your skills in sales, account management, customer service and business management.

No experience in freight or logistics? No problem. Many of our most successful franchisees came into the business without any freight background. Our franchise system is built for multi-skilled go-getters who love variety in their day.

Length of Agreement
10 years + 10 years
About the Opportunity
PACK & SEND is like a 'travel agent' for the freight and packaging industry - and our business has continued to grow every year because we provide great value for our customers - using proprietary technology to select the best courier service for each parcel. This, together with our expertise in packaging services, means we can offer solutions for any person or business.

Here are some of the benefits of owning a PACK & SEND Franchise:

1. Dynamic growing market
You can have the confidence of knowing a simple but compelling market reality: growing trade via the internet is increasing the demand for sending packed and unpacked goods via courier.

2. World class business systems
You are fully equipped with the systems, resources, network, technology, expertise and buying power to exploit the explosive growth in the transportation of goods.

3. No Limits to your sales growth
Literally everyone is your potential customer. From Blue-chip corporations, SMEs, tourists, backpackers, eBayers, householders and government departments.

4. Brand strength
With a 25 year history and international retail footprint of more than 130 locations, the PACK & SEND brand opens doors, confirms credibility and attracts loyalty. Our website, call centre and referral networks deliver you consistent enquiries from day one.

5. Great work-life balance
A key benefit of owning a PACK & SEND Service Centre is that you are essentially operating from retail premises with business to business trading hours.

6. Earn online income, 7 days a week, 24 hours a day
Get the best of both worlds - Online & Retail. With a combination of 'bricks & mortar' Service Centre sales & ecommerce parcel delivery sales. Earn money online while you sleep.

7. High profit margin products and services
Many of PACK & SEND's services are sold at high gross profit margins. Transactions can gross anything from a few dollars to $80000+

8. Low cost retail business model
Our retail business model has a low staff requirement and low non-perishable inventory - with the advantage of having access to the systems, strategic planning, buying power and marketing muscle of a big network.

9. Work satisfaction and fulfilment
At PACK & SEND, no two days are the same. Our franchisee's tell us there's nothing more rewarding than the positive feedback they regularly receive from happy customers.

10. Low Initial Investment
A PACK & SEND franchise is a very affordable investment with a low entry price compared to other retail franchise systems. We also have a number of finance options available.

Year Business Established
1993
Year Franchising Commenced
1994
History
Founded in 1993, PACK & SEND is an Australian-owned company that has experienced significant success locally and expanded its network to New Zealand and the UK.

Our success over 25 years comes down to our ability to always adapt and evolve.

PACK & SEND has transformed from being just a local 'Pack & Ship' shop when it started to today becoming the complete logistics solution provider for businesses and consumers. Customers can be serviced anywhere in the world and may book services either through a Service Centre, Phone or Online.

Awards
2018 ProductReview.com.au Award – Best Courier, 2019
2008 2nd Place FLA International Franchisor of the Year 2008
2007 FCA PricewaterhouseCoopers Franchisor of the Year 2007
2007 FCA PricewaterhouseCoopers Franchisor of the Year - Retail Category 2007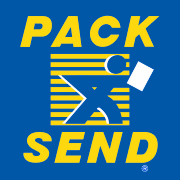 Find out more at the PACK & SEND Franchise Information page