Summary
Join our 8yr Beef Jerky Success: $10K Investment. Guarantees $75K+ Income! Established with proven track record of growth and a Guaranteed income of $1,500 per week for minimal investment.
Location Details
Seize Sydney's market and expand across state events! Operate locally in bustling markets, major events, or journey through regional gems for fun and profit. Your Beef Jerky empire awaits—huge earning potential at every turn. Don't miss out!
Marketing support
All the support you need, Online socials and more. Including SMS to past event customers.
Training provided
We have all your training covered. Easy systems and processes to get you going right away.
Skills
Minimal skills are needed, everything you need will be part of the training.
Length of Agreement
Ongoing, no extra or month yearly charges, its a once off cost to setup only.
About the Opportunity
Here's a snapshot of what makes our reseller program an extraordinary opportunity:

• Established Legacy: We've thrived for 8 years in the Beef Jerky market.
• Guaranteed Income: Secure a minimum income of $1,500 weekly.
• One-Time Investment: A $10,000 setup cost—no hidden or ongoing fees.
• Local Territories: Limited spots for resellers maximize your earnings.
• Flavourful Variety: Over 12 Jerky Flavours, including bestsellers and award-winners.
• Support & Training: Comprehensive guidance provided from the onset.
• Growth Opportunities: Potential to far exceed guaranteed earnings.
• Community Focus: Be part of our supportive and family-like network.
• Turnkey Solution: Our business model is a straightforward pathway to profit.

• Next Steps: Completion of our form is critical to move forward with detailed information and financials.

We'd love for you to be part of our success story. I encourage you to complete our reseller enquiry form promptly.

Here's the link or number to get started:

Call Obie 0402992177
OR Online ENQ:
https://www.heavenlyjerky.com.au/reseller/
Year Business Established
2015
Year Licensing / Distribution Commenced
2018
History
With a 8-year legacy of growth, our reseller network is the backbone of our success, flourishing under dedicated support and training. Seeking Sydney-based resellers poised to capture bustling markets, we promise a partnership akin to family, where success is shared and celebrated. Embrace our thriving Beef Jerky business, leverage our established model, and help write the next chapter of our storied history. Join us and turn your entrepreneurial dreams into a reality with a proven market leader.
Awards
Lots of Rewards for our HOT Jerky and our famous Smokie Dokie, Garlic, Yum Rum, Bourbon and more. We have 12 constant flavours and over 15+ we can make.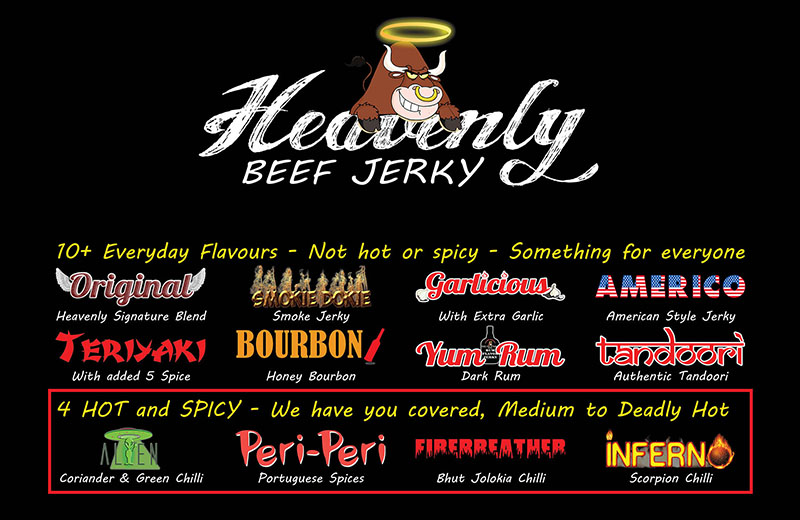 Find out more at the Heavenly Jerky Licensing & Distribution Information page