Summary
• 5 Day a Week Business Model • Multi-Product/Income Stream Franchise • Internationally Recognised Brand • Strategic Sales & Marketing Program • Continuous Improvement Training & Support Program
Marketing Fees
2% of gross
Location Details
TBC
With a major development in the heart of Maroochydore pumping an extraordinary 4.4 billion dollars into the 52 hectare site and creating 15000 jobs in the next 20 years, the Sunshine Coast has never looked brighter for business.
Marketing support
MBE Australia provides comprehensive marketing support. This includes:
• The main website at www.mbe.com.au
• A full suite of brochures and other material upon opening
• A quarterly Marketing Action Plan with artwork specifically tailored to each quarter, with the owner simply required to add their centre details to finalise all collateral
• Direct marketing and other material supplied throughout the year
Training provided
Eight-week initial training program consisting of:
• Training in our head office located in Sydney
• In-store work experience
• Post opening training via face to face, phone/internet support

On-going guidance provided by MBE includes:
• Comprehensive online training program
• Regular training webinars
• Store visits
• On-call technical support
• National conferences
Skills
• No experience is required, however business acumen is a must
• All training is provided as well as a comprehensive support program
Length of Agreement
The Franchise Agreement is for a 10 year period, with an option for an additonal term of 10 years
About the Opportunity
Mail Boxes Etc. (MBE) is a multi-product income stream business model. We serve the small to medium business market through:
• Courier, freight and packing services
• Mail box services, including virtual offices (superior to Australia Post's offering)
• Printing and business services

We assist new franchisees with the selection of their territory, ensuring the right density and mix of businesses in the area, plus we locate suitable commercial premises in the commercial/retail district. MBE assists with property negotiations and equipment leases on behalf of franchisees as this is one of our core areas of expertise.

Our experienced team deliver ongoing training and marketing support to franchisees all year round and are available to assist with queries at any time.

Your customer base is essentially a professional clientèle (small to medium businesses, corporate clients, located within 3-5kms from your centre) and MBE centres operate during business hours (Monday-Friday, 8:30am - 5:30pm) with low staffing requirements (1-2 people) making it ideal for a family unit to operate.

Our ideal candidate can demonstrate the following:
• Their ambition is to create/run their own business
• They appreciate the service/B2B industry
• They have an entrepreneurial mindset and want to be part of their local community
• They appreciate and value teamwork
• They understand and follow the rules of the network
• They have a professional approach
• They have adequate financial resources

What MBE offers:
• Industry that grows with three distinct revenue streams (mailbox rentals, printing and shipping services)
• Industry not too sensitive to economic fluctuations
• Established brand and an international network
• Low initial investment
• Fast capitalization
• Non-complex and pleasant activity (no printing experience is required)
• Being an entrepreneur, but not on your own

MBE Worldwide Mission Statement:
Making business easier worldwide through our service and distribution network, delivering personalised and convenient business solutions with world- class customer service.
Year Business Established
1980
Year Franchising Commenced
2009
History
MBE was established in 1980 in San Diego and in 2000, the United Parcel Service purchased the MBE Master License for USA/Canada/Puerto Rico which later re-branded their 4,300+ locations to The UPS Store. In the rest of the world including Australia and NZ, stores are branded Mail Boxes Etc. (also known as MBE Business Centres) and our Master Licensee is head quartered in Italy since 2009. You will find all the details regarding our global network at www.mbeglobal.com
Awards
Winner, MBE International Marketing Excellence Award 2017 and 2015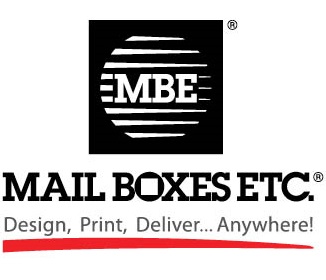 Find out more at the Mail Boxes Etc. Franchise Information page