Summary
Located in the Sunbury, north-west of Melbourne's CBD. Chatime is a globally recognised, iced/bubble tea brand. If your are passionate, fun and want to share in our success, let's have a chat now.
Location Details
This Chatime store is situated inside the busy center close to coles & woolworths and leading to the outdoor cinema precinct and entertainment complex.
This is a fantastic opportuni-Tea to be a part of the chatime family!
Marketing support
Our crazy and creative marketing team will support you with marketing campaigns of the highest quality across our seasonal items and promotions. We run national campaigns across social media and digital marketing channels. As a partner, you will be assisted in running local area marketing programs to drive and grow your business. Equipped with our amazing central support team, you'll easily beat out any competing cafes and bubble tea stores.
Training provided
Chatime is dedicated to providing quality, personalised and individualised training to each partner whilst maintaining ongoing support for the life of the franchise agreement. You'll receive three weeks of intensive training prior to your store opening, along with one week of instore support from one of our team members when you open.

You will also have access to our online training and support system to assist you and your staff in all your ongoing training needs.

Skills
We're looking for passionate, hard-working people who will mesh well with our fun, innovative culture. Ideal partners are:
• Fun, outgoing and passionate people
• Looking to transform retail or customer service experience into an exciting business venture
• Willing to commit the necessary time and effort
• People who enjoy a great work-life balance
• Financially secure
• Willing to take advice and direction to successfully achieve the Chatime vision

Length of Agreement
The length of the agreement will reflect the lease.
About the Opportunity
This is a partnership

We're not in the business of selling franchises. We'd rather partner with you and provide ongoing support and mentorship so that you're in a position to run your own successful Chatime business. We offer an ongoing comprehensive training package that ensures you are well versed with all our operations and processes. Forget the boring coffee scene and join the constantly evolving bubble tea trend! We recognise fully that your success is our success – we're 100% in if you are!

A market-leading iced tea franchise

While there are several other iced tea/bubble tea franchise businesses available in Australia, none are as widely recognised as Chatime! We dominate this space because of our innovative product range and our clever adaptation to the Western market. Our drink range is so much more versatile, and fun compared to your average cup of coffee at a standard café. We are continuously re-inventing bubble tea so that customers are always surprised and are left wanting more! Come and enjoy our success and strong reputation with your very own franchise.

A flexible, comfortable lifestyle

Chatime is not your average hospitality business. Our franchisees work an average of 29.6hrs per week (based on an annual survey) and are able to find the time to balance family responsibilities and general life needs. Trust us, you won't need to pump yourself up with coffee to function! Thanks to our advanced systems and processes – and because we take care of a lot of the admin for you – you can enjoy your life while running a successful business!

Low setup costs

Setup costs start from just $300,000! This includes design and documentation fees, training, shop fit-out, stock and equipment. There is also an ongoing monthly royalty of 6.5% and a marketing levy of 3.5%. Chatime is accredited with ANZ bank and funding is available to approved franchisees meeting their criteria.

Ongoing support

With a Chatime franchise, you're not just supported at the start of your journey. We'll make sure you're taken care of throughout our partnership. Let us take care of the admin for you, with HR support, bookkeeping, and rostering. We'll offer ongoing financial and business advice, as well as recommendations to help you improve operations. We'll carry out nationwide marketing campaigns to boost the brand, while providing you with your own tools to market locally. Plus – you've got access to engaging online training programs which you can use for your staff over and over.

We got you!

Year Business Established
2009
Year Franchising Commenced
2009
History
Chatime was founded in Taiwan in 2003 which introduced the world to the delicious flavour and versatility of modern, Taiwanese tea. Since being introduced in Australia in 2009, we've rapidly grown to 125 stores nationally and 2,000+ worldwide, as of 2020! We offer a range of fruity iced teas, flavourful milk teas, fun frozens, unique promotional drinks and even hot teas! Then, top off your drink with our delicious range of mix-ins like flavoured jellies and of course, chewy and sweet tapioca pearls. Your standard cup of coffee can't compete!
Awards
2017-2018: - Top 10 – topfranchise Brand, Lifestyle and Marketing and Overall winner
2019: Top 10 – Expansion, Top 100 Australian Youth Brands, Research and Strategic Focus, Inspiring Retail Leader and SO much more! Check our LinkedIn page for more details.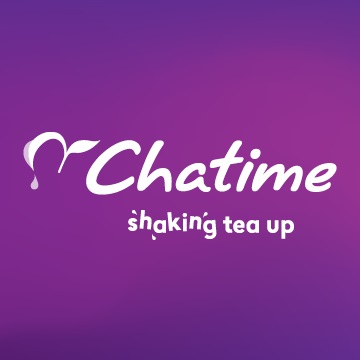 Find out more at the Chatime Franchise Information page