Summary
Become a key business partner with Shingle Inn by owning and building a major territory.
Marketing Fees
3% of gross
Marketing support
Our highly experienced marketing team is responsible for creating and executing both national and local area marketing campaigns in conjunction with our franchisee cafe network. These marketing initiatives are designed to support each Shingle Inn Cafe whilst preserving the company's eight key brand values.
Training provided
• Comprehensive 6 week pre-opening training + ongoing support

• Business support and ongoing assistance in managing the day-to-day cafe operations

• The opportunity to grow your business and build a saleable asset as part of a successful cafe network

• Initial and ongoing technical support coupled with access to extensive cafe experience and support through the Shingle Inn National Office and Area Managers

• Systems and processes for day-to-day management of the business

Skills
We are searching for people who are passionate and committed to the values of Shingle Inn. No previous Cafe/Hospitality experience is required, however, our people must believe in:

• Exceeding customers' expectations
• Embracing Innovation and Tradition
• Delivering superior quality
• Upholding the Shingle Inn Cafe Culture
• Being part of an iconic cafe brand

Length of Agreement
5-7 years
About the Opportunity
Shingle Inn offers budding cafe entrepreneurs in New Zealand an opportunity to own an exceptional boutique cafe and have the Master Franchise in New Zealand. With multiple locations in and around New Zealand there will be a suitable location for you.

In our cafes the Shingle Inn 'experience' starts the moment customers enter our shop. Luxurious high-back chairs, warm rich colours and decorative lamps together with our signature range of decadent cakes, superior quality coffee, delicious gourmet sandwiches and emphasis on exceptional customer service has helped us establish a renowned boutique cafe brand. All of these elements provide a proven business system to kick-start your success.

Shingle Inn currently operates a network of cafes across Queensland, New South Wales, Victoria and Western Australia with expansion plans for ACT, South Australia and New Zealand in 2019.

Our products are baked and delivered daily to each cafe to ensure freshness and continuity and most importantly, allowing you to concentrate on creating memorable customer experiences in-store.

Become part of our Shingle Inn 'family' and embrace the culture and tradition that have become part of the quintessential Shingle Inn Cafe experience - it's the reason a special occasion shared at a Shingle Inn Cafe is carried through from one generation to the next.

Finance Options Available

Shingle Inn Cafe Franchisee Testimonials

"Becoming a Shingle Inn Cafe Franchisee feels like becoming a member of a family. We feel like we made the right decision by purchasing a Shingle Inn Cafe Franchise, and recommend others to do the same. Go for it!"

Kathy Nau & Annette Kirby – Shingle Inn Sunshine Plaza & Caloundra Franchisees

"We had never worked in the hospitality industry prior to becoming a Shingle Inn Cafe Franchisee, and now we love it – you can't keep us away from the store. The 6 week training program taught us everything we needed to know from cleaning the floor to completing the banking and finance paperwork."

April Carnie & Nicki Nesbitt – Shingle Inn Mt Ommaney Franchisees

Year Business Established
1936
Year Franchising Commenced
2008
History
The Historic Shingle Inn, Edward Street Brisbane was built in 1936 amidst the depression. Constructed as an elegant English-style teahouse, Shingle Inn faced abandonment in early 1970's but was bought by the Bellchambers family in 1975.

With careful rejuvenation of the café, remaining true to the provision of cakes, bakery specialities and food of exceptional quality, the word of Shingle Inn's unique and wonderful experience spread from one generation to the next.

Awards
2014 Franchise Council of Australia Emerging Franchisor of the Year
2014 Franchise Council of Australia Franchisee of the Year (2 or more staff) - Shingle Inn Mt Ommaney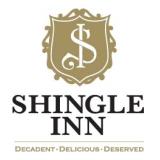 Find out more at the Shingle Inn Cafe Franchise Information page