Summary
Established Jim's Pool Care Master Franchise l This Sydney Master Region is redy to grow and if your ready for a change up and for a challange contact us today
Location Details
Parramatta to Penrith
Jim's Pool Care Franchise is ready to grow in the westeren Sydney area & needs motivated and entrepruenerial master franchisor to manage a team of mobile business servicing pools and selling equipment in the Parramatta through to Penrith. Ready Now.
Marketing support
Jim's Pool Care provide our Franchisees and Franchisors with high level marketing & branding such as a website, Google & Yellow Pages. We also help you conduct an initial local marketing campaign & have a library of ready to go marketing resources such as flyers, letters and stationery for you to utilise in your new local area. This means more time for you to focus on your customers and grow your business.
Training provided
As well as 3 days Jim's Group Business training, Jim's Pool Care provide our new Franchisees with an initial intensive Pool Care Training course over 3 weeks.

New Franchisees are now put through the National Certificate 3 Pool Technician Qualification to help increase knowledge and confidence.

Matser Franchisors are required ot complete 5 Days Business Training with Jim and his team in Melbourne.

We also provide a comprehensive step by step startup guide to make things easier for you.
Skills
Are you customer focused, motivated & looking to take control of your future?

Do you have sales, management or trade qualifications?

These skills are a bonus, but not mandatory as we provide comprehensive training to make you feel comfortable in running & managing your new Jim's Pool Care Franchise business.

So if you are...

- Motivated and passionate about customer service
- Can follow systems and processes
- Are ready for a change and prepared to invest in yourself

...Contact Jim's Pool Care today!
Length of Agreement
10 years with ZERO cost to renew.

About the Opportunity
Jim's Pool Care is growing in Parramatta and Penrith and has a fantastic opportunity for a new Master Francnhisor to take on this established region. All the hard work has been done, the brand has been built in the region, a team has started to grow and now its your turn to take it to the next level. As part of the Jim's Pool Care offering for Master Franchisors, you can grant yourself 1 x Territory when you sign up to learn the business and build skills to pass on to your team and new Franchisees you bring on.

The existing Franchisor is very experienced in the pool industry and has a wealth of knowledge to share with the potential buyer. We alread y have several other Franchisors in Sydney who would form part of your team for training, support and growing the Sydney Franchise System.

This is a great opportunity for the right buyer.

The Jim's brand is recognised by 94% of Australian adults & coupled with the accrued business acumen and proven systems, your business will have an enormous head start over your competitors.

Jim's Pool Care provides you with the opportunity to work outside, the convenience to work your own hours cleaning & servicing pools. You can be your own boss and build & manage your own business without limit.

Jim's Pool Care will be there to help you reach your goals, with full training and ongoing support. So if you are ready to grow a successful business then we want to hear from you today.


* FINANCE AVAILABLE TO APPROVED APPLICANTS*

Some of the reasons people invest in our Mobile Pool Shops are:

- Opportunity to work from home
- To become your own boss
- Control your working day and choose when you work
- More time for your family and things they enjoy
- Access to the knowledge of a wide range of franchisees who have done it before & are ready to help

Why choose a Jim's Pool Care franchise?

- You will joining a growing team and become part of Australia's largest home services brand
- A mobile based business means flexibility, convenience & a great lifestyle for your family
- You will be able to grow the value of your business as your customer base grows
- You will charge for your time plus chemicals and equipment so your income won't be capped
- Jim's Pool Care provide you with a step by step start-up guide and full training that helps you manage your franchise business the entire way
- Jim's Pool Care provide you with an income guarantee to help get you started

Contact us today to find out more, have a confidential chat and to receive our information pack.


Year Business Established
2003
Year Franchising Commenced
2003
Awards
2018 Jim's Group Gold Award Franchisee Support
2017 SPASA Australia Pool & Spa Service Business of the year
2014 Jim's Gold Franchisor Award Excellent Franchisee Support
2013 Jims Divisional Franchise Support Gold Award
2011 Jim's Franchisor Platinum Award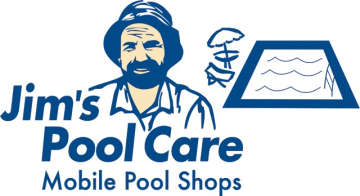 Find out more at the Jim's Pool Care Franchise Information page