Internal Ref: Brisbane
Summary
Who doesn't love a schnitzel? It's the ultimate comfort food. And what is comfort food but simple food, done well, using quality ingredients. That's what we do at Schnitz.
Marketing Fees
3% of gross
Location Details
Brisbane
Marketing support
Raising brand awareness keeps Schnitz top of mind with our customers. So, it's beneficial to both of us to have a coordinated marketing strategy. That's why we provide you with on-going Marketing Support on a local and national scale.

Training provided
During your five-week Franchisee Training course, you'll gain the management skills needed to run a modern business. And with our guidance and on-the-job training, you'll experience a smooth transition into your store and be ready to hit the ground running.

Skills
The most important things you'll need as a Schnitz Franchisee are passion, energy and a hands-on approach. But it's not all about us. We want you to actively and positively engage with your community too.
You don't need to know a lot about running a business; we're going to teach you. When you make an investment in us, we make an investment in you.

Length of Agreement
Generally, the term of the franchise agreement will match up wth the lease term including options.
About the Opportunity
With Schnitz, you can expect a partnership with real support including business coaching, operational guidance, and marketing. And before you know it, you'll be connecting with your community through delicious food.
Owning a Schnitz store requires active involvement, which means you won't be scared to crumb a few schnitzels yourself. And as a leader, you'll foster a positive culture amongst your team. Like any job worth doing, there will be some hard work. But that's no big ask when you're 100% committed.
As a business, Schnitz will continue to evolve by developing products, efficiencies and exploring new markets. But, we can't do this without you. Sharing and learning work both ways, so we will need your input. After all, it is a partnership.
To get things started, just contact us. We'll get you to fill out a questionnaire and come in for a chat. If everyone is happy, we move onto the paperwork and your Business Plan.
So, if you think you're up for the challenge, we'd love to hear from you.

Year Business Established
2007
Year Franchising Commenced
2009
History
For thirty years Polish-born Roman Dyduk ran restaurants, and one dish always topped the menu, schnitzels. But what was it that made Roman's schnitzels so popular? He prepared them the traditional European way - fresh fillets, thinned, crumbed and pan cooked. So, in 2007 Roman opened Schnitz, a restaurant entirely devoted to his signature dish.
From that simple cafe, Schnitz has grown across Australia. And we still use Roman's original technique - handmade, pan cooked to order.

Awards
2013 BRW Fast and Fearless Growth
2014 GE Capital Award for Excellence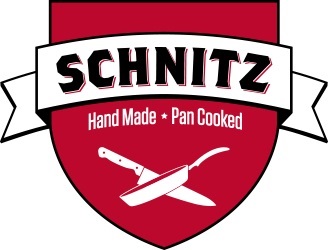 Find out more at the Schnitz Franchise Information page