Summary
A Jim's Cleaning franchisee can come from any background and work/ life experience. No cleaning experience is necessary as comprehensive training is provided. We offer a $1,100/week Work Guarantee.
Location Details
Business on the Sunshine Coast is booming, it's out of control and we can not meet the demand of jobs
Call 131 546 For a FREE Information Pack
Marketing support
Business on the Sunshine Coast is booming, it's out of control and we can not meet the demand of jobs

We need you to take on a Franchise so we can fill this demand. Currently in the Jim's Call Centre we get over 1200 new customer enquiries every year. We can show you exactly where the growth areas are and where we need you to fill the demand - taking all the stress out of having to find new customers for your business.

Please submit an expression of interest on the right to receive a FREE INFORMATION PACK.
Training provided
Full training is provided including service & business management training.

At the current day, over 450 families across Australia now own Jim's Cleaning franchises, and earn great money while enjoying a great lifestyle. We receive over 30,000 new jobs each year, just through the office, and our list of past satisfied customers easily stretches into the hundreds of thousands.

General cleaning franchisees are perfect for husband and wife teams, or people wanting to work a combination of day and evening hours.
Skills
No pre-requisite skills are required. If you are good a dealing with customers, understanding what they need and doing the work, you would have already started miles ahead of the pack.

Why do people join Jim's Cleaning?
* The power of the Jim's brand
* Choose your own work hours
* Full training (including business training)
* Build your own business as big as you want - No Royalty Percentage
* Big group buying savings on insurance, equipment & chemicals
* Wide range of customers
* Work around family commitments
Length of Agreement
Jim's Cleaning franchise owners can come from any background and work/ life experience. No cleaning experience is necessary as comprehensive training is provided. Franchisees need the desire and motivation to run their own business, a good work ethic and good communication skills. If this is you then you can easily build a successful business with us. At the Jim's Cleaning Group we often say that the customers are ready, the systems are waiting – all you need to do see for yourself.
About the Opportunity
Live the dream! Live and work in one of the fastest growing regions of Australia. Live and work in one of the most beautiful regions of Australia. Stop commuting to a job you don't like!
Jim's Cleaning Sunshine Coast seek motivated people who want to grow their own successful business to join our team of franchise owners on the Sunshine Coast. The demand for our services is huge and we are continually turning away customers.
Make great money, enjoy a great lifestyle and enjoy being a local business owner on the Sunshine Coast. Start a franchise with an existing client base (depending on availability) or a new franchise territory.
$36,500, Includes everything you need to get started (except your work vehicle). Full Training, Uniforms, Stationary, Commercial Cleaning Package, Package, Vehicle signage, insurance and more.
Finance Available: We have various finance options available for new franchisees who need help to finance a franchise. Conditions apply but please ask us how we can help.

Seven Reasons to Choose a Jim's Cleaning Franchise
1) No earnings restrictions. Grow your business as large as you want with a team of workers..OR
2) Split for profit, Build and sell cleaning runs to new franchisees and pocket big $$$
3) No location restrictions, Work where you want to work.
4) Low fees. We are NOT a percentage based system the more you earn the more you keep!
5) Great Lifestyle, Work close to home, spend more time with your family, make great money!
6) Amazing Brand Power. We are the largest and most recognisable home services brand in Australia.
7) Access to great deals on phones, cars, insurance and much more due to our buying power.

We understand that most people who join us are first time business owners who are not sure of the right steps to start and run their own successful business. At Jim's Cleaning we make starting a business easy! We show you how to run a successful business, provide you with ongoing client referrals and ongoing support for the life of your franchise.

We guide new franchisees through all the steps to get started in their business as well as comprehensive support program for the life of their franchise. We invite those interested to spend a "Day as a Jim" by joining an existing franchisee on the road for a day or two so you can experience for yourself what its like to be a Jim!



Year Business Established
2009
Year Franchising Commenced
1983
History
Jim's Cleaning began life as the little brother of the hugely successful Jim's Mowing Group, first franchised in 1983 by Jim Penman, a mowing man not only in the right place at the right time, but passionate enough about customer service to earn his business a reputation second to none.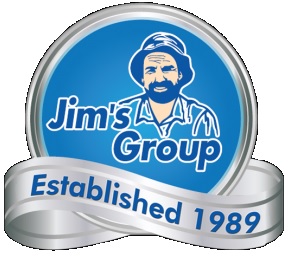 Find out more at the Jim's Group Franchise Information page