Summary
Join our 8yr Beef Jerky Success: $10K Investment. Guarantees $75K+ Income! Established with proven track record of growth and a Guaranteed income of $1,500 per week for minimal investment.
Location Details
Sydney, Melbourne, Hobart, Canberra, Cairns,Darwin
Seize Sydney's market and expand across state events! Operate locally in bustling markets, major events, or journey through regional gems for fun and profit. Your Beef Jerky empire awaits—huge earning potential at every turn. Don't miss out!
Marketing support
All the support you need, Online socials and more. Including SMS to past event customers.
Training provided
We have all your training covered. Easy systems and processes to get you going right away.
Skills
Minimal skills are needed, everything you need will be part of the training.
Length of Agreement
Ongoing, no extra or month yearly charges, its a once off cost to setup only.
About the Opportunity
Are you ready to step into a world of flavour, profit, and excitement with a business move that's as smart as it is satisfying? We're searching for an entrepreneurial spirit to take charge of a booming Beef Jerky Reseller opportunity in the Sydney/NSW area. Imagine being the go-to source for 12 mouth-watering Jerky flavors, the most extensive range in Australia, catering to every palate and preference!

This is your chance to break free from the ordinary and become the talk of the town at every market and event. Our business model isn't just about selling; it's a flavour festival on the go! With a product that practically sells itself and customers who keep coming back for more, you'll quickly discover why we're not just a standout but also one of the most profitable ventures around.

Your journey to financial freedom starts with a simple, logical, and incredibly achievable investment of $10,000. This isn't just any investment; it's your golden ticket to a guaranteed minimum weekly income of $1,500. And remember, this is just the beginning—the sky's the limit, and our current resellers can vouch for the potential, with some banking up to 10 times this amount on a single weekend.

But it's not all about the money. It's about the lifestyle, the community, and the joy that comes with running a business you can be proud of. We believe in setting you up for success, which is why we provide extensive training to ensure you hit the ground running and never look back. You'll find it's not just our flavours that are rich, but also the experience and growth you'll enjoy being part of our brand.

We've crafted a bulletproof business model that stands the test of time; 8 years and counting! With such a proven track record, your decision is as straightforward as they come. Take the helm and steer your way through bustling local markets, vibrant regional events, and potentially lucrative state-wide opportunities.

Don't let this opportunity pass you by. If you're reliable, passionate about quality products, and ready to jump into an adventure that spells out success in bold, delicious letters, let's connect.

To join the profitable world of Beef Jerky reselling and to discuss the full details of how you can start capitalizing on this opportunity, give Obie a call at 0402992177. Let's make your business dreams a reality—flavourfully and profitably.


Call Obie 0402992177
OR Online ENQ:
https://www.heavenlyjerky.com.au/reseller/
Year Business Established
2015
Year Licensing / Distribution Commenced
2018
History
With a 8-year legacy of growth, our reseller network is the backbone of our success, flourishing under dedicated support and training. Seeking Sydney-based resellers poised to capture bustling markets, we promise a partnership akin to family, where success is shared and celebrated. Embrace our thriving Beef Jerky business, leverage our established model, and help write the next chapter of our storied history. Join us and turn your entrepreneurial dreams into a reality with a proven market leader.
Awards
Lots of Rewards for our HOT Jerky and our famous Smokie Dokie, Garlic, Yum Rum, Bourbon and more. We have 12 constant flavours and over 15+ we can make.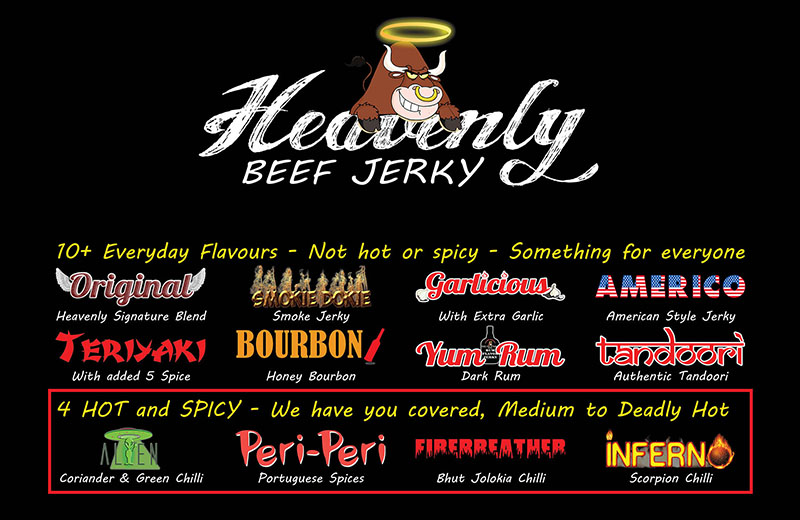 Find out more at the Heavenly Jerky Licensing & Distribution Information page