Summary
Truefitt and Hill is recruiting partners to grow its established franchise network in key cities located in Australia, Tasmania and New Zealand.
Location Details
Perth is the capital city of Western Australia with high volumns of established and upcoming developments, and is a heavy traffic location.
Marketing support
Franchisees will have full marketing support available. This includes having access to all marketing collateral which will be executed with excellence, backed by marketing experts. Franchisees will benefit from Truefitt's end-to-end marketing support.
Training provided
Truefitt & Hill offer all franchisees tailored training through a detailed workshop. Provided with an operations manual, all franchisees will be backed by an international team and Head Office. Franchisees will have ongoing support from an experienced team who have witnessed the incredible growth of the brand in Australia over the years.
Skills
Franchisees will follow a tailored and robust induction program ensuring they are ready to run the business. Area managers will support the franchisees and an ops manual will be provided to all partners.
Length of Agreement
5 + 5 years

About the Opportunity
Truefitt & Hill is recruiting candidates to successfully grow its established franchise network in key cities located in Western Australia, South Australia, Northern Territory, Queensland, Victoria, Tasmania and New Zealand.

Being the oldest barbershop in the world and leaders in the field, Truefitt & Hill has flourished over the last few years and today has stores all over the globe. From its humble beginnings in Mayfair, today have stores in the United Kingdom, Canada, United States, China, India, Malaysia, Thailand, Australia, Azerbaijan, South Korea and Kuwait, with more due to open their doors in the future.

This is a unique opportunity to join a premium and successful brand recognised by its history. Experience owning a business that delivers world-class service unsurpassed anywhere in the world.


Benefits of owning aTruefitt & Hill Barber Shop

Established International Brand
Franchisees will get to work with a prestigious brand that is well-known as the oldest barbershop in the world (Guinness World Records certified).

The brand has even been appointed by the late Duke of Edinburgh and has a business model that has been perfected for over 200 years.

Multiple Income Stream Business (retail and service)
Franchise partners will get to sell premium grooming products crafted in England since 1805, such as signature branded colognes, hair clay, deodorant, razors, shower gels, combs, shaving brushes, seasonal gift sets and more.

Growing Industry

The global market size is predicted to reach 81.2 billion USD by 2024 (Statista).

Technology and Software
Franchisees will havee access to necessary tools and systems to run their business effectively and efficiently.

World-Class Services

With strong brand loyalty, customers will frequent the store to experience Truefitt & Hill's world-class service, developing a personal relationship with the brand and its staff.

Innovative brand

Truefitt & Hill has a collection of products formulated with an exquisite blend of rare, natural and sophisticated essence.

Their offerings include a full line of shaving fragrance, hair and bath products which can be purchased in store and available on the Truefitt & Hill online shop.

Extended services include memberships, gift vouchers and services can be purchased and booked on the Truefitt & Hill website following quick 5 steps. (for example: Fresha)

Year Business Established
1805
History
Truefitt & Hill was established in 1805 and is recognised for its history and authenticity by the Guinness Book of records. Not just your average barbershop but Royal Warrant holders to H.R.H The Duke of Edinburgh.

Truefitt & Hill have been catering to the exact standards of London's gentry, when vanity and good grooming were the essential mark of the gentlemen. 216 years later consisting of research and intimate customer relationships, their knowledge, exceptional products and legendary barbering services caters for the 21st century's man.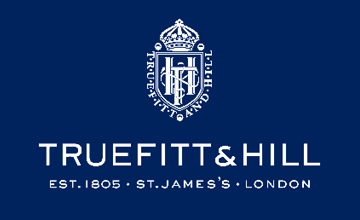 Find out more at the Truefitt & Hill Franchise Information page