Summary
Hotel Franchise Business for sale-opportunity to partner with Quest, Australasia's largest apartment hotel operator & recipient of the first 5-star rating on the Australian Franchise Rating scale
Marketing Fees
1% of gross
Location Details
66 Julia Street, Portland VIC 3305
Portland is on the SW coast of Victoria. Located in the Glenelg Shire, 362 km west of Melbourne & 538km east of Adelaide. Quest Portland is centrally located in the heart of Portland CBD, 200m from Percy Street where all local amenities are located.
Training provided
New franchisees receive ongoing support during the first year and beyond to ensure they are assisted in all aspects of running the business.
This includes sales and operational support, business advice and the more practical operations manual containing every aspect of operating a Quest Franchise Business.

The widespread recognition – and power – of the Quest brand also underpins the support provided to franchisees through national marketing campaigns.
Skills
Franchisees need to be energetic, people-orientated and committed to working within our franchise system framework. It helps if you have previous experience as a successful business owner or have worked within a medium-large corporate enterprise, because running a Quest Franchise is a capital-intensive business.

You don't need a background in hospitality to become a Quest franchisee, but you do need to be prepared to immerse yourself in the day-to-day running of your business.

There's a vigorous selection process to ensure the right fit.
Length of Agreement
Franchise Agreement Terms - Initial term: 5 years Further terms: 3 x 5 years

About the Opportunity
Quest Portland is centrally located in the heart of Portland CBD. The property is approximately 200 metres from Percy Street where all local Restaurants, Pubs, shops and banks are located. Quest Portland is approximately 450 metres from the boat ramp and local beach. Everything is only a few minutes' walk from the property making the location ideal for leisure and corporate travellers alike. Quest Portland is situated approximately 15km from the Airport and only 400 metres from the main bus terminal.

Portland is a place of historic discovery with over 200 buildings within the town classified by the National Trust, many of which are constructed out of bluestone.

Portland's commercial centre is based around Percy Street with a number of retail outlets and eateries spilling over into Bentinck Street which overlooks a grassy foreshore, the town's marina and the expansive sands of Nuns Beach.

Quest Portland offers the prospective purchaser the leasehold interest of a 50 key serviced apartment building comprising hotel rooms, one, two- and three-bedroom apartments with fully equipped kitchens, bathrooms, laundry facilities, separate living and dining areas in one bed apartments. Other property features include conference facilities, on site car parking, outdoor solar heated swimming pool and Tesla destination charging.

Year Business Established
2011
Year Franchising Commenced
1988
History
Quest was born from humble beginnings in 1988, with one property in Fitzroy, on the fringe of Melbourne's central business district. Since then, Quest has emerged to become the largest and most successful apartment hotels brand in Australasia.

Today, travellers choose Quest, which is widely recognised for providing spacious and convenient accommodation for guests travelling for extended periods of time
Awards
Quest has been recognised for its accomplishments in both the accommodation & franchising industries. In November 2019 Quest Portland was awarded winner of Quest Regional Franchise of the year, Vic/Tas 2019 & Quest National Franchise of the year 2019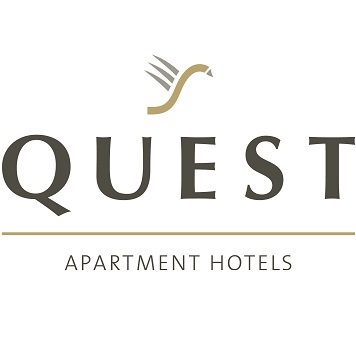 Find out more at the Quest Apartment Hotels Franchise Information page