Summary
Hotel Franchise Business for sale-opportunity to partner with Quest, Australasia's largest apartment hotel operator & recipient of the first 5-star rating on the Australian Franchise Rating scale.
Marketing Fees
1% of gross
Location Details
69 Gurwood Street, Wagga Wagga NSW 2650
The Quest Wagga Wagga Business is well positioned in the Central Business Centre of Wagga Wagga, which is the largest inland regional city of NSW.It is located halfway between Sydney & Melbourne and only a 2.5 hr drive to Canberra.
Training provided
New franchisees receive ongoing support during the first year and beyond to ensure they are assisted in all aspects of running the business.
This includes sales and operational support, business advice and the more practical operations manual containing every aspect of operating a Quest Franchise Business.

The widespread recognition – and power – of the Quest brand also underpins the support provided to franchisees through national marketing campaigns.
Skills
Franchisees need to be energetic, people-orientated and committed to working within our franchise system framework. It helps if you have previous experience as a successful business owner or have worked within a medium-large corporate enterprise, because running a Quest Franchise is a capital-intensive business.

You don't need a background in hospitality to become a Quest franchisee, but you do need to be prepared to immerse yourself in the day-to-day running of your business.

There's a vigorous selection process to ensure the right fit.
Length of Agreement
Franchise Agreement Terms - Initial term: 5 years Further terms: 3 x 5 years

About the Opportunity
The Quest Wagga Wagga business offers a unique opportunity to become associated with the Quest Brand, one of the most successful franchise systems in Australia. The Quest Wagga Wagga business is well positioned in the Central Business Centre of Wagga Wagga, which is the largest inland regional city of NSW.

Quest Wagga Wagga offers the prospective purchaser the leasehold interest of a 43 key serviced apartment building comprising, one, two and three bedroom apartments with fully equipped kitchens, bathrooms, laundry facilities, separate living and dining areas in one bed apartments, internet access, Foxtel, DVD, stereo and quality furniture and fittings.

The many features and benefits of the location can be summarised as follows: -
• Wagga Wagga has over 4500 businesses and has a truly thriving local economy with population growth above over 1000 per annum. There is currently 66,061 people that call Wagga home. By 2036 the population is projected to exceed 80,000.
• It is located 450kms south west of Sydney CBD and 460kms north of Melbourne's CBD.It is only a 2.5 hr drive to Canberra.
• Wagga Wagga offers excellent opportunities in many areas including defence, health, engineering, and construction. A thriving and growing community, Wagga Wagga has a diverse economy so doesn't rely solely on one or two industries. This means greater employment opportunities and a resilience to industry downturns.
• Wagga Wagga has a long and proud military history that dates back 120 years and currently is home to Kapooka the largest training base for Defence in Australia.
• Wagga Wagga is home to the Charles Sturt University\
• it is a local mecca for culture & heritage with stunning galleries, museums and city library
• Cultural and sporting events such as the Wagga Wagga Gold Cup, Jazz Festival, Youth Arts Fest and National Horse Festivals also draw people to Wagga Wagga.

Year Business Established
2005
Year Franchising Commenced
1988
History
Quest was born from humble beginnings in 1988, with one property in Fitzroy, on the fringe of Melbourne's central business district. Since then, Quest has emerged to become the largest and most successful apartment hotels brand in Australasia.

Today, travellers choose Quest, which is widely recognised for providing spacious and convenient accommodation for guests travelling for extended periods of time
Awards
Quest has been recognised for its accomplishments in both the accommodation and franchising industries, receiving a number of awards.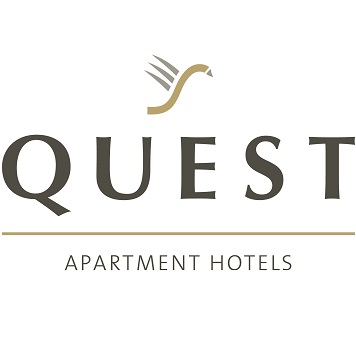 Find out more at the Quest Apartment Hotels Franchise Information page