Summary
Don't want to do the same old thing everyday? Sick of the office? Over The Boss? Get in quick and secure this location AND open your burger joint now HH is a QSR restaurant
Location Details
Rockhampton
Hello Harry restaurants operate in high profile locations

Open the best burger joint in town. Fun, funky, cool branding with an awesome high quality product.

Become a leader in the Burger Revolution!!

Marketing support
Hello Harry invests significantly in marketing activities, in fact our total investment far outweighs the value of franchisee marketing levies collected.

Franchisees joining the business get financial & operational support with a launch campaign, ongoing campaigns, POS promotions, new burger campaigns, low season specials & many other marketing & customer engagement campaigns.

Training provided
Hello Harry provides a full business induction & ongoing training programs including the following:

- Full Brand Induction
- Store Operations
- Staff Management
- Financial Management & Reporting
- Staff Training
- Ongoing Staff Training
- Ongoing Product & Operations Training Provides a Full Business Induction Program

Skills
The great thing about a Hello Harry business is how simple it is to operate. You don't need retail experience - we will teach you all you need to know.
Length of Agreement
5-7 Years
About the Opportunity
With a solid number of locations in the pipeline to open over the next 6 months, now is the time to join Harry's team & make your mark on the Hello Harry brand.

The best part about the Hello Harry franchising model is our locations are locally owned & operated by passionate people who are determined to cater to the needs of their community & become the local hero and exceed customer expectations.

If you join Harry's team you will be provided with a full turnkey business opportunity to ditch your boss & work for yourself. Along with this you will be provided with.

• Continuous Support & Training
• All systems and process for smooth day to day operation
• National Marketing support and local area marketing guidance to grow your business to its full potential
• Product development by some of Australia's best chefs
• A full comprehensive 4-week training program and start up assistance to let you hit the ground running


This is a truly unique opportunity to get in on a gorwing brand now and select the best locations.

Hello Harry is a very simple in store operation allowing for 'under management' ownership if desired.

The product is of high quaility and at very competitive price point for the consumer.

Hello Harry appeals to a wide majority of the population seeing the young crowd, families and sensiors all enjoying the great value that Hello Harry offers. The #1 demogrphic would be the 18 - 30 year age group.

Hello Harry stores only require 100 - 150sqm including alfresco.

Some key points are:

Simple in store operations

Minimal staff required

Fantastic branding / store image

High quality product

Our buns are made exclusively for Hello Harry

Very profitable business model

Low set up cost compared to most QSR brands






Year Business Established
2014
Year Franchising Commenced
2015
History


Hello Harry The Burger Joint is a funky eatery serving up generous size burgers! Opened April 2014 in Ocean streets Entertainment precinct Hello Harry, has fast become a local favourite!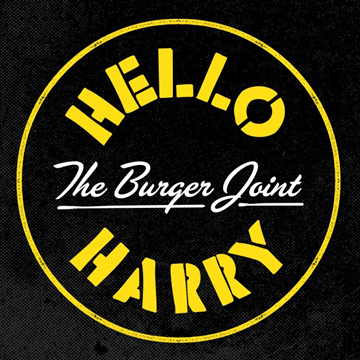 Find out more at the Hello Harry Franchise Information page