Summary
A fantastic opportunity to join us at strongly performing Westfield Doncaster. If you want your own piece of the Bakery Cafe world then now is the time to get on board with Ferguson Plarre Bakehouses.
Location Details
Doncaster Rd
Westfield Doncaster is a world class shopping and entertainment destination situated 17 kilometres from the Melbourne CBD. The centre caters to a trade area population of almost 708,000 residents. The site is at the Coles level.
Marketing support
With our dedicated in-house marketing team we have substantial marketing support to centrally manage brand image, design and promotional activity. Furthermore we manage significant digital assets on your behalf including our full e-commerce site and social media platforms. These are yours to take advantage of when you join our franchise family. In addition to national marketing, we help you to set up your own local area marketing plan for your specific customer segment and area.
Training provided
Despite the simplicity of our system, there is still a lot to learn about the Ferguson Plarre way of doing things. We have an extensive training program to train you on everything from how to order a celebration cake to food safety and how to use our computerised point of sale system. Your Business Coach will work with you to ensure that your customer service team is trained in every aspect of the in-store customer experience also.
Skills
NO BAKING REQUIRED!

Customer focused
Passionate
Caring
Hard working
Commercially minded

Length of Agreement
As per the Lease term.
About the Opportunity
Ferguson Plarre Bakehouses has a fantastic opportunity to join our franchise family with a brand new store at Westfield Doncaster.

One of Melbourne's largest shopping centres, Doncaster is home to many of Australia's favourite retailers including David Jones, Myer, Target, Big W, Coles, Woolworths, Apple and Zara. There is also a Village Cinemas complex on site and the centre boasts one of the most comprehensive fashion retails offers in the city with approximately 150 apparel, footwear and accessories stores.

No baking is required, there are no Royalty or Marketing Fees, but we are looking for dedicated and customer focused people to join our passionate franchise network.


Year Business Established
1901
Year Franchising Commenced
1987
History
Ferguson Plarre Bakehouses has always been and still is a family owned and operated business. We have a long & proud history dating back to the 1800's. The Ferguson Plarre story commenced in 1901 and both families established themselves as household names in Melbourne. The Plarre family still actively own and manage the day to day running of the business from baking through to retail shop design, operations and bakery franchising. The family continue to embrace their forefather's commitment to quality products, service and innovation.


Awards
Ranked #1 Food Franchise for 2018
TOP FRANCHISE AWARDS Top 10 in 2015, 16, 17 & 18
2015 VICTORIAN BAKING SHOW
Best decorated cake 2 years in a row
Best Sausage Roll
2009 GOLD BANKSIA AWARD WINNER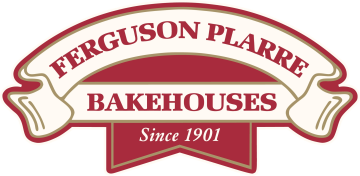 Find out more at the Ferguson Plarre Franchise Information page