Summary
Tap into the lucrative jerky market as the sole reseller in Central Coast NSW. A chance to partner with a legacy brand!
Location Details
Central Coast NSW, Newcastle and more
Gain rights to the jerky market between Sydney and Newcastle, serving a large customer base with a premium product.
Marketing support
Leverage our substantial marketing support, including SEO-optimized online campaigns, social media promotion, direct SMS to our extensive customer database, and eye-catching event materials to drive sales in your territory.
Training provided
Our turnkey operation model comes with full training in sales strategy, operations, and product information. Ongoing support ensures you're confident in every aspect of the business, with no previous experience necessary.
Skills
Ideal candidates should possess entrepreneurial spirit, excellent communication, a knack for networking, and a strong desire for success. Customer service skills and the ability to maintain high standards are crucial.
Length of Agreement
A transparent and straightforward agreement with no hidden costs, once off setup cost and no monthly or onging costs.
About the Opportunity
As the premier distributor of our extensive jerky range, featuring 12 flavors, you'll have the opportunity to cater to the high demand at markets and events, with a proven business model that facilitates a six-figure earning potential in a dynamic industry.
Year Business Established
2015
Year Licensing / Distribution Commenced
2018
History
With over 8 years in the market, our brand has carved out a formidable reputation, ensuring a rich foundation for your business venture.
Awards
Our jerky variations have consistently won raves and awards for their outstanding taste and quality, further solidifying the brand's excellence and aiding in your marketing endeavors.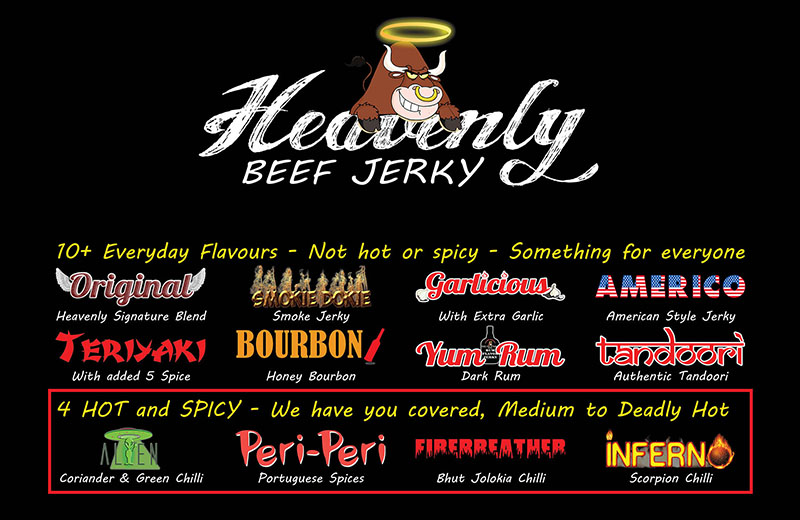 Find out more at the Heavenly Jerky Licensing & Distribution Information page