Summary
For over 30 years, Australasia's largest apartment hotel operator-Quest has developed and honed a proven structure and formula to support franchisees in successfully running their businesses.
Marketing Fees
1% of gross
Location Details
25-29 Heygarth St, Echuca VIC 3564
Echuca is a located on the banks of the Murray River and Campaspe River in Victoria. The border town of Moama is adjacent on the northern side of the Murray River in NSW. Echuca is the administrative centre and largest town in the Shire of Campaspe.
Training provided
New franchisees receive ongoing support during the first year and beyond to ensure they are assisted in all aspects of running the business.
This includes sales and operational support, business advice and the more practical operations manual containing every aspect of operating a Quest Franchise Business.

The widespread recognition – and power – of the Quest brand also underpins the support provided to franchisees through national marketing campaigns.
Skills
Franchisees need to be energetic, people-orientated and committed to working within our franchise system framework. It helps if you have previous experience as a successful business owner or have worked within a medium-large corporate enterprise, because running a Quest Franchise is a capital-intensive business.

You don't need a background in hospitality to become a Quest franchisee, but you do need to be prepared to immerse yourself in the day-to-day running of your business.

There's a vigorous selection process to ensure the right fit.
Length of Agreement
Franchise Agreement Terms - Initial term: 5 years Further terms: 3 x 5 years

About the Opportunity
Quest Echuca is located at 25-29 Heygarth St, in the central business district of Echuca. The property is directly opposite the Shire of Campaspe municipal offices, library and law courts. The main shopping, commercial and tourism precincts of Hare and High Streets are adjacent, as is the historic Port of Echuca and its iconic paddle steamers. The property is within easy walking distance of Echuca's many cafes, restaurants and wedding venues.

The main industry drivers include tourism, dairy and agriculture. Coupled with a substantial commercial and retail hub, Echuca Moama is also home to reputable educational facilities including Bendigo TAFE as well as major companies nearby.

Echuca Moama is a popular tourist destination due to its favourable climate, attractions and proximity to Melbourne.

There are also several new developments underway in Echuca Moama, including the $280 million new bridge project crossing the Murray River. This is due to be completed in late 2020.

Echuca Moama has a dynamic and involved business community and Echuca Moama Tourism is a proactive organisation, promoting visitation to both domestic and international markets. In 2018 Echuca Moama had 2,100,000 visitors, of which 765,000 stayed overnight. There were 14,100 international overnight visitors.

Year Business Established
2008
Year Franchising Commenced
1988
History
Quest was born from humble beginnings in 1988, with one property in Fitzroy, on the fringe of Melbourne's central business district. Since then, Quest has emerged to become the largest and most successful apartment hotels brand in Australasia.

Today, travellers choose Quest, which is widely recognised for providing spacious and convenient accommodation for guests travelling for extended periods of time
Awards
Quest has been recognised for its accomplishments in both the accommodation and franchising industries, receiving a number of awards.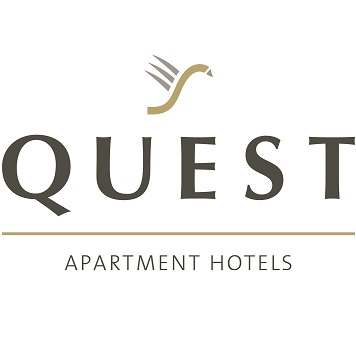 Find out more at the Quest Apartment Hotels Franchise Information page