Crust Gourmet Pizza Franchise Resales available in Bendigo, VIC. Enquire Now!
Summary
Crust Gourmet Pizza Franchise is a fast-growing pizza chain & a highly regarded brand. We are now looking for passionate people to join our family in Bendigo VIC! Enquire today!
Marketing support
Crust's Marketing Department are a team of qualified professionals with years of experience creating and implementing innovative and successful marketing programs.
The marketing team are responsible for all major national campaigns as well as:
• TV & radio advertising
• Social media
• Crust website
• New product development
• Public relations
• Magazine and print advertising
• Newspaper advertising
Training provided
• 4 weeks at our dedicated and purpose-built training academy on the Gold Coast in QLD Australia
• 2 weeks in store training
• Additional in-store support when your store opens or upon settlement, in addition to ongoing assistance with in-store training on a needs basis from both National Office and the Sales and Performance team

Skills
• No specific qualifications are required, although having business experience is an advantage
Entrepreneurial and with an appetite for success.
• Business minded with great people skills and financial management experience.
• Willing to commit fully to a new business venture and devote the necessary time and effort.
• Willing to take advice and direction to achieve the company's vision.
• Financially secure and keen to actively promote and market the business.
About the Opportunity
Franchise Type: Established Store - Resale
Franchise Location: Bendigo, VIC
Purchase Price: $210,000
- - -
Why Crust?
It's not just the finest ingredients we use, but the way we combine them to create unique combinations that are adventures in flavour. We make our pizza the authentic way, relying on instinct and measuring by hand rather than following a strict formula.

Our 'boutique' style extends beyond our menu, all the way through to a customer's experience in a Crust store. While there are commonalities in store design, we endeavor to keep the boutique, local pizzeria feel in our store design and customer experience.

CRUST is not just a franchise; we are a family.
Today, Crust has more than 140 stores across Australia and the UK. Since RFG purchased Crust Gourmet Pizza in 2012, the brand continues to enjoy strong growth. Stores can be positioned in high street or 'strip' locations or on the outside of shopping centres.

All new franchisees undergo a six-week induction where they're taught to create award-winning pizza through perfecting the dough, setting the oven, and all the other secrets to creating Crust pizza. We'll also provide close-support through the first weeks of opening and will help train staff, assist in day-to-day running of the shop and ensure every aspect of the store is running smoothly.

We prime the market before a franchisee opens in a new territory by advertising locally so that by the time the store opens, the locals are ready and waiting.

So why wait? Enquire today to start your rewarding pizza journey!
Detailed brand, store and territory information is also available on request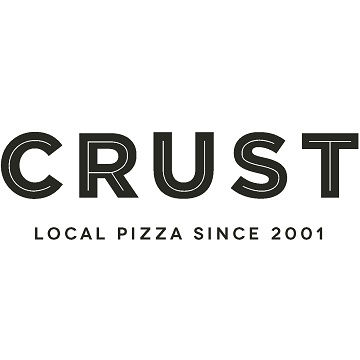 Find out more at the Crust Gourmet Pizza Franchise Information page