Summary
PACK & SEND has an exciting opportunity available for you to join one of Australia's leading franchise brands, servicing the high growth market of parcels, freight and e-commerce logistics.
Location Details
458 Pulteney Street
This business is equipped with systems and resources to handle the movement of goods for customers located anywhere in the world. PACK & SEND Adelaide East is located in the heart of Adelaide City CBD.
Marketing support
PACK & SEND has developed a comprehensive range of tools & resources that assist the Franchisee with growing their business. We take away the time-consuming hassle of developing and producing your digital and non-digital marketing materials.

With ongoing support from your Field Support Manager and the PACK & SEND Marketing Team at headquarters, all your marketing needs are covered locally and nationally.

Training provided
PACK & SEND provides 4 weeks of comprehensive training.

- 2 weeks induction training program at PACK & SEND Headquarters. Learn everything from strategy to technology.
- 1 week practical training in a Service Centre to gain 'hands-on' experience.
- 1 week of on-site training in your own Service Centre.

PACK & SEND's online Operations Manual (PACKNET), regular meetings, webinars and the National Conference are an integral part of ongoing training & knowledge sharing. PACK & SEND's network of experts is always available to help.

Skills
Do you have a knack for business which places the customer experience first? Are you a creative problem solver who goes the extra mile for your customers? Our No Limits culture and patented business model will complement your skills in sales, account management, customer service and business management.

No experience in freight or logistics? No problem. Many of our most successful franchisees came into the business without any freight background. Our franchise system is built for multi-skilled go-getters who love variety in their day.

Length of Agreement
10 years + 10 years
About the Opportunity
Own a franchise with multiple revenue streams and take a no limits approach to your income potential.

PACK & SEND have been in business for 25 years with continual growth and is an internationally recognised brand. We provide freight & logistics solutions for all types of business and consumers. With our growing retail network across Australia, proprietary point of sale technology and SaaS solutions, there is simply no other franchise logistics business model like PACK & SEND in the world!

What can we offer you?
• The chance to become part of a successful team with over 25 years' experience and growth
• Initial and on-going training & support including, field visits, webinars, newsletters, state-based network meetings and an annual national conference
• Extensive marketing support – local, national, digital and more
• 24/7 online booking system which generates passive income
• Multiple streams of recurring revenue with transactions occurring 24/7 – even while you sleep
• Delivering e-commerce and technology solutions keeping PACK & SEND franchisees at the forefront of the e-commerce evolution

Do you want to become a part of a successful, innovative and forward- thinking team, whose aim is to help your business become a success? Are you willing to learn what it takes to become a successful logistics operator? Do you want to own an existing business with clientele already using our services and a full database of clientele?

If this sounds like you and you want to take control of this well established and growing opportunity, then contact us now, we would love to hear from you.
Year Business Established
1993
Year Franchising Commenced
1994
History
Founded in 1993, PACK & SEND is an Australian-owned company that has experienced significant success locally and expanded its network to New Zealand and the UK.

Our success over 25 years comes down to our ability to always adapt and evolve.

PACK & SEND has transformed from being just a local 'Pack & Ship' shop when it started, to today becoming the complete logistics solution provider for businesses and consumers. Customers can be serviced anywhere in the world and may book services either through a Service Centre, Phone or Online.
Awards
2018 ProductReview.com.au Award – Best Courier, 2019
2008 2nd Place FLA International Franchisor of the Year 2008
2007 FCA PricewaterhouseCoopers Franchisor of the Year 2007
2007 FCA PricewaterhouseCoopers Franchisor of the Year - Retail Category 2007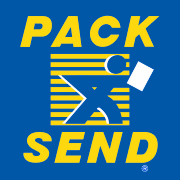 Find out more at the PACK & SEND Franchise Information page