Summary
New Drive Thru Available!! Zarraffa's Coffee is expanding in the North side of Brisbane. Would you like to be part of this exciting Australian owned franchise? Don't miss out - under construction now
Marketing Fees
3% of gross
Location Details
Deception Bay, Redcliffe
Located in a popular spot in North Brisbane, this drive thru site is close to all amenities and is situated on Deception Bay Road.
Marketing support
From exciting national promotions, advertising opportunities and more, marketing is driven by a dedicated support team to promote the brand nationally. Using key media channels - from social media and print, right down to the point of sale and partnerships, everything is in place to help you get on your feet and in the zone as fast and as smoothly as possible.
Training provided
Each candidate will undertake a 2-week trial prior to the approval stage to help get a feel for the Zarraffa's way, before continuing through 10 weeks of in store training that covers marketing, bookkeeping, point of sale, HR, maintenance and, most importantly, coffee making! Good training is paramount to getting your business up and running and Zarraffa's has been in the business of training since 1996. Today's comprehensive training for all new franchisees includes all aspects of the coffee industry, based on hard won industry experience.
Skills
We know that there are no limitations when it comes to people with passion, and Zarraffa's franchisees have come from various backgrounds but with the same drive to create a thriving business in a successful franchise chain. Desirable traits include experience in customer service, hospitality and business ownership, however full training is provided. Franchisees must also be willing to work full-time in the store, as we believe that the best way to get the most from your investment is to understand even the smallest details.
Length of Agreement
Initial term of Agreement is for 10 years
About the Opportunity
'An individually perfect cup of coffee - every time' is the Zarraffa's mantra, mission and customer expectation, and the business is built on a strong foundation of barista training and a deep understanding of the franchise system.

WHY ZARRAFFA'S?
- Australian-owned and operated, with almost 90 stores in QLD, NSW and WA
- Privately owned and still led by founder, Kenton Campbell
- A high ratio of multi-site owners and owner re-investment
- Over two decades in the specialty coffee industry
- Loyal customer support through strong brand recognition and exceptional customer service
- Zarraffa's Z Card® loyalty program rewarding customers for repeat business
- National headquarters in Eagleby, QLD which doubles as a coffee roasting facility, producing award-winning blends for all stores

Contact us today to find out more about a Zarraffa's franchise, or visit zarraffas.com/franchising/.

We look forward to welcoming you to our Zarraffa's herd!

Year Business Established
1996
Year Franchising Commenced
1999
History
Established in 1996, Zarraffa's Coffee began as small a roasting house operating from the backstreets of Southport on the Gold Coast. Customers would sit on bags of green coffee beans yet to be roasted by founder and CEO, Kenton Campbell, and enjoy freshly brewed coffee. Kenton's dream for Zarraffa's Coffee to become Australia's premium coffee provider began with a $9,000 personal loan and some good old-fashioned leg work, with the aim of knocking the competition out of the water with an exceptional product and service guarantee.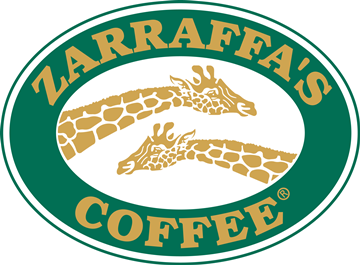 Find out more at the Zarraffa's Coffee Franchise Information page