Summary
Build a property/real estate related business. After 42,000 inspections we have a proven system for you to build a specialised property/building inspection business with 6-figure earning potential!
Location Details
Joondalup and surrounds
Our Resicert franchise areas are huge! Over 50,000 households to ensure you can grow the business as big as you like. These are marketing territories only, this means you're able to grow your business outside of the zone expanding your business base.
Marketing support
Leverage latest technology and automation to create more efficiencies, speeding up results. No chasing payments! With weekly payments direct to your bank account. Our social media platform is growing rapidly as franchisees are trained in developing this basic business fundamental, something very few small businesses use effectively. Backed by driven social media campaign and a lead-generation team, your kick off to success begins with our structured marketing kick off pack.

Resicert has account managers with best-practice lead generators.

Training provided
Full training provided on all 12 Inspection Services included in our extensive customised training platform and process.

Also included is how to market in your area, with valuable selling and social media training. All your set-up is done for you, from a personalised branded website to creating online lead-generation listings. We can't do face-to-face with clients; that's your job. We provide you with a proven system and process to ensure a successful roll out!

Our proprietary customised learning system provides an optimal training result
Skills
There are no specific qualifications required to be a building inspector (Source: Australian Standard AS4349). It states it must be a 'suitably qualified and experienced person'

Good people skills, the ability to listen and understand needs and wants, and a desire to help and find solutions, are all excellent attributes. Attention to detail, love helping people, comfortable with technology and a desire to succeed is what you need to bring to the table.

If you have a building, engineering or construction background it's a good fit.
Length of Agreement
A Resicert franchise has an initial term of five years with an option for a further five-year terms.
About the Opportunity
Do you love property, or an interest in investment properties? Do you have the drive, motivation to build your own business and are ready for a change?

Imagine if you could build a specialised property and building inspection business in the real estate industry with six-figure earning potential! Work fewer hours, get your life back and step into a business already created. Your main task is building clients and executing inspections. All the rest - set-up, website creation, invoicing and money chasing is pretty much done for you.

Work with property management professionals, conveyancers and lawyers who know the value of a trusted brand with a 100% money back guarantee for all services. Be backed by multi-million dollar indemnity insurance and national brand and reputation.

Help families and investors with one of the most stressful purchases in their life, by delivering peace of mind. Put your problem-solving skills to helping Australia make more informed real estate choices.

OPPORTUNITY BENEFITS

When you become a Resicert Licensee delivering Resicert Certified Inspections, you gain the opportunity to build a business providing excellent income and valuable services, supported by a strong brand in a growth market.

Resicert's highly systemised processes provide you with flexibility to design your own work/life balance. Most of the backend functions of your business are taken care of, freeing up your time.

Our training program covers the required inspection certificates, marketing, social media, selling and the use of our integrated systems that help you streamline your day-to-day activities. The more efficient you become, the more effective your business, the better scope it has to build a saleable asset.

Resicert not only gives you time back with your family or for yourself but trains you in how to build a business, a completely transportable skill.

Your background may be construction, architecture, project management, surveying, engineering or real estate. Our franchisees come from all walks of life, each provided with full training to the required state standards before commencing.

Make a positive change in 2019 and begin building a business that has potential to grow. Contact Resicert today. Envision reward and freedom created on your terms. Be ready to get fun back in your life. Don't delay.

Learn new, valuable skills and build strong business relationships in your community. Make a difference in yours and your family's life.

You could be just a few clicks away to creating the life you want - take the first step!
Year Business Established
2009
Year Franchising Commenced
2010
History
Areas available: WA, SA, QLD, NSW, ACT, & VIC, Metro and Regional zones

Resicert is Australia's leading inspection service company; a professional national brand, ISO 9001 certified, with over 42,000 inspections nationally since 2009.

Have grown to include 12 Inspection Services: Including Property, Termite, Depreciation, New Build Handovers, Pool, Meth Testing and Timber Pest

The Resicert unique business model rapidly expanded to 12 staff and 25 inspectors nationally with over 9200 client testimonials - average rating of 92%
Awards
Resicert is a highly systemised and professional business that is independently accredited with the ISO 9001 certification

Resicert is the ONLY inspection company in Australia that has the ISO Quality Tick!

9200 plus testimonials - average rating of 92%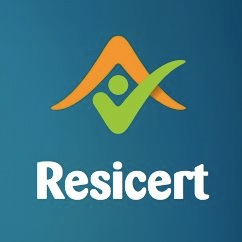 Find out more at the Resicert Property Inspections Franchise Information page