Summary
Take control and be your own boss! As a Master Franchisee with strong business management experience, you can expect to play a pivotal role in the growth of Bucking Bull in Queensland.
Location Details
Queensland
Bucking Bull is Australia's favourite boutique carvery with an established brand presence in Brisbane, Toowoomba and the Gold Coast. We are now looking to match this highly profitable territory with a motivated and business savvy entrepreneur!
Marketing support
Bucking Bull's strong branding, stylish marketing material and ongoing marketing coaching gives every Franchise Owner the tools and skills to grow their business year after year.
Training provided
As a Bucking Bull Master Franchisee, you will receive comprehensive training to ensure you are equipped to lead, support and grow your territory. We've been operating a world class franchise model since 1999, and as such, have a wealth of resources, tools and training available to you.

Whilst it is advantageous to have experience in food and even in fast paced kitchen environments, Master Franchisees will receive in depth training covering every facet of the business, allowing you to drive sales success and brand expansion in your region.
Skills
People' are our most important ingredient.

Our franchise owners come from all walks of life, and don't necessarily have food retail or restaurant experience. We can teach you all you need to know to operate a Bucking Bull store, however you will need to possess a strong foundation in business management and have a proven ability to lead a team.
About the Opportunity
Bucking Bull is Australia's favourite carvery, with a strong and undeniable brand presence
throughout most of the country. As we enter the next chapter of our growth, we are welcoming business savvy entrepreneurs to join us in selected Master Franchise territories.

Combining the freshness and quality of traditional home cooking with the convenience and value of food court dining, Bucking Bull has now grown to be the nation's most loved Roast & Grill restaurant with close to 40 stores across the country.

As a Master Franchisee, you can expect to play a pivotal role in the future growth of Bucking Bull. Sure, it's important to have a passion for the brand and our product, but you will also need to match your enthusiasm with impressive business acumen, people skills, project management experience, problem solving, and the ability to motivate your Franchise network to achieving sales success.

Becoming a Master Franchisee isn't for everybody, but for the right person, it can be provide a truly rewarding business asset. Take the bull by the horns and enquire today!

Call 07 3423 0555 today, send an email enquiry or visit us at www.buckingbull.net to find out more.
Year Business Established
1999
History
Bucking Bull is part of the Aktiv Brands Group. Aktiv Brands is a leading Australian retail food brand developer and manager. We've been around long enough to see what works well and what ingredients result in Franchise Owners success.
Awards
- Listed in BRW's Fast Franchise list 2010, 2011 & 2012
- Ranked #9 Top Franchise Awards 2012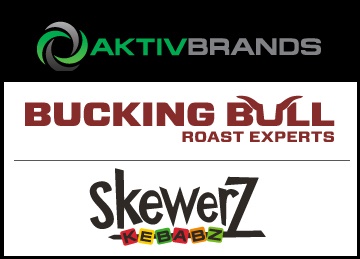 Find out more at the Aktiv Brands Franchise Information page