Summary
Bob Jane T-Marts Devonport is part of Australia's largest independent tyre retailer with over 45 years' experience providing the right applicant/s with an opportunity to be a franchise owner.
Location Details
16 Oldaker Street
Bob Jane T-Marts Devonport is located the heart of Devonport in Oldaker Street making this store highly visible to the passing motorists. This store provides off street parking and is located within a short distance from the local shopping area.
Training provided
There is an intense 24 week training program ( Fit to Franchise) all successfull applicants who pass the initial seletction criteria must participate in and successfully pass prior to taking on their Franchise.

This training program is delivered in 4 x 6 week blocks, covereing all facets of the business from Tyre Fitting to Wheel Aligning, Product Knowledge to Sales Training, Point of Sale to Financial Management (including Book-Keeping procedures) and finally Managing the day to day operation of a T-Mart.

About the Opportunity
At Bob Jane T-Marts we have a total commitment to effectively serve the motorists of Australia with a level of service beyond their expectations, using the highest quality products and at the most competitive price.

As an independent Australian business, Bob Jane T-Marts has a national network of franchised and company owned tyre retail stores, making us Australia's largest independent tyre retailer. Together with our extensive range of tyres, we stock a broad range of wheels and reliable batteries for passenger vehicles, 4WDs, vans and light trucks. Our expert wheel alignment and wheel balancing services use the latest in computerised technology, making sure Bob Jane T-Marts keeps you on the road for longer.

Embracing over 45 years of experience, Bob Jane T-Marts remains the most trusted name for tyres, wheels and batteries in Australia.

Year Business Established
1998
Year Franchising Commenced
1972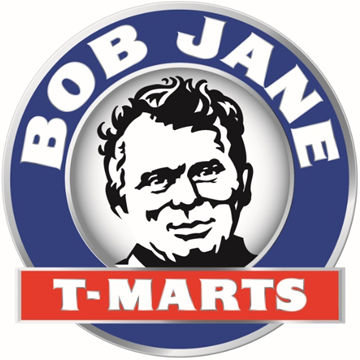 Find out more at the Bob Jane T-Marts Franchise Information page