Summary
Flower Power Garden Care Franchisees enjoy a unique edge in the gardening services sector. They are backed by Australia's largest Garden Centre chain
Location Details
Bankstown
Sydney
Marketing support
With 25,000 customers instore each week and more than 350,000 loyal Garden Lovers Club members, you're backed by a trusted, well-loved retail brand. Each week we receive hundreds of queries from customers wanting to know how they can take advantage of the great service we provide instore in the form of garden care around their home. As a result, the Flower Power brand will generate all the leads you need. As you grow, you'll find many of your leads will come from referrals.
Training provided
Once you've signed your Franchisee Agreement, you'll undergo a two-week formal training program, which includes:

Residential and commercial garden maintenance
Plant identification and culture
Pest identification and culture
Soil and landscape supplies
Garden makeovers
Turfing
Irrigation
General handyman requests
Bookkeeping, quoting, invoicing and maintenance
Small landscaping projects
Skills
No experience necessary

From finance and manufacturing to the service industry, our franchisees have come from all walks of life and made the tree change. But they all have three things in common: a can-do attitude, a willingness to learn and a desire to take control of their work and life.
About the Opportunity
Ready to start a new career and be your own boss?

Looking for a strong brand and proven system to launch your new career?

Want to work outdoors?

Looking for flexibility in your family time and work hours?

Looking for a business that has growth opportunities?

From $24,000 excluding equipment, the Flower Power Professional Garden Care system provides a secure entry into the professional garden care industry. A turnover in excess of $100,000 is a realistic goal with many franchisees achieving far in excess of this.

We market ourselves as a professional garden maintenance service that extends to both domestic and commercial properties. Our brand constantly attracts quality referrals from client's who want more than just mowing. They ask for scheduled garden maintenance, clean-ups, makeovers, turfing, pest and disease management, hedging, pruning, planting, irrigation and mowing - a complete service, not just a mowing service.

Flower Power Professional Garden Care franchisees enjoy complete support in the form of horticultural expertise both in store and the field. They are given preferential service, delivery and pricing across all Flower Power stores, this enables them to minimize down time and gives them the opportunity to make a margin on products over and above labour costs billed to their clients.

Flower Power prides itself on the relationships with their Franchisees. Flower Power is constantly seeking ways to improve the operation and the returns to Garden Care Franchises. Above all we believe that our promises are real and stand by them.

We offer a genuine income guarantee period on commencement enabling our Franchisees to focus on building their business in a positive, measured manner.

Unlike some Franchise systems we offer our Franchisees at the very least a postcode as a territory.

We do not charge for leads or a percentage of your turnover. Instead we offer a flat rate monthly service fee giving you fixed costs whilst you go about growing your business. So the bigger your business gets the better off you are.

Above all we believe that we offer our franchisees the best package in the gardening sector and an opportunity to achieve financial security whilst maintaining a work/family balance.

There are many opportunities available across all regions of Sydney. So if you believe that you can embrace this opportunity and thrive with the backing of a great name in gardening, don't delay, act now.

Awards
There's limitless income potential as a Flower Power Garden Care franchisee. A turnover of over $100,000 is a realistic goal but many of our established franchisees turnover up to $250,000 a year.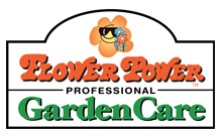 Find out more at the Flower Power Professional Garden Care Franchise Information page