Summary
Join a successful and elite team, delivering valuable financial management & bookkeeping services to SMEs. Relax knowing our experienced business development team will grow your client base for you.
Location Details
Tasmania
Franchise opportunities available across Tasmania and nationally.
Marketing support
Whilst most other groups only offer "markerting support" we actually do the business development for you.

Everything from generation of initial enquiries, development of client proposals, negotiations and even closing is done for you by our seasoned and highly skilled business development team. We are so confident in our ability to acquire clients for our franchisees that we GUARANTEE to introduce you to enough new clients to make your business successful.
Training provided
Upon commencement, franchisees receive 3 days of high intenisty, one-on-one coaching from the groups head office management team giving you the confidence to effectively operate and manage an EzyAccounts franchise.

In addition, you'll complete 10 days of self-paced, remote training. At the end of the remote training you'll be an expert "Certified Advisor" on the 4 major accounting systems used by small business (MYOB, Xero, Reckon, QBO) as well as having all the knowlege required to become a registered BAS agent.
Skills
We are proud of the elite reputation that we have built. To ensure the ongoing prestige associated with EzyAccounts, it's a requirement that applicants already have a strong understanding of accounting, with a mid to senior level accounting background.

It is expected that applicants will be degree qualified as a minimum. However, we will consider applications from individuals that do not have degrees as long as they have the necessary exper
Length of Agreement
The standard franchise terms are 10 years plus 10 years. There is no cost in the renewal of agreements.
About the Opportunity
Ready for a Worthwhile Challenge?

A genuine and rewarding business investment opportunity is rare. This is especially true of options offering honest, sustainable income representing a reputable brand in a rapidly expanding market. We both know that financial investment in the right business is critical to your success, now and in the future.

We at EzyAccounts share your concerns. It is important to our success that we carefully select only quality candidates to provide our clients with advanced bookkeeping, management accounting and business services. In our years of experience, we know that caring about our franchisees helps them to succeed in this lucrative industry. Once chosen, we invest considerable time and resources in each franchisee with ongoing training and support.

The possibility of $100,000 to $200,000+ with residual income is realistically achievable.

Working towards success as an EzyAccounts Service Franchise, you interact directly with clients, providing services that match the experience of you and your staff. These services may include bookkeeping, management accounting, software training, payroll processing and other key services.

Grow your own business under the EzyAccounts brand for an investment of $35,000 and become part of an elite team. The fee includes extensive support from our knowledgeable team of experienced and successful executives. Receive ongoing business coaching for every aspect of your business. Relax knowing skilled sales executives are working on growing your franchise for you, allowing you to get on with what you do best, servicing the client!

Time for Action

Do you see yourself as being part of this long-term and financially satisfying business opportunity? Learn more about us and this exciting chance to become an integral part of our growing success by joining our professional team. Apply now and discover the benefits of being in business for yourself...not by yourself.
Year Business Established
2008
Year Franchising Commenced
2009
History
EzyAccounts first opened in 2008 we found many small businesses made strategic decisions solely based on their bank balance and had no idea that valuable business intelligence could be extracted from their accounts.

Our mission became obvious, take valuable bookkeeping and accounting services that are normally only available to large business and deliver them to smaller, fast paced, entrepreunurial clients. The result has been incredible. Our clients receive valuable financial insight and our franchisee are able to make a real difference.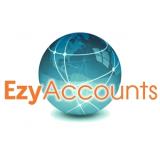 Find out more at the EZYACCOUNTS Franchise Information page