Summary
Located on the corner of Sturt & Gillies Streets,in close proximity to local schools, parks & sporting facilities, this redeveloped site will deliver a full convenience offer including fuel & grocery.
Marketing support
We have Brands you won't find anywhere else-Slurpee and Krispy Kreme. Our dedicated team of Marketing experts will work to drive customers to your store. They'll be creating ads and promotions, as well as supplying promotional material like posters and shelf wobblers to get your store looking great – and selling even better.

Monthly promotions always give a fresh new look to the store and customers love the savings! Highlights include 7-Eleven day (on the 7th November), our annual BYO Cup Day, and many more fun seasonal promotions.

Training provided
We provide you a comprehensive 8 week Training programme. This training programme will provide you with the business and operational skills required to be an effective and a successful Franchisee. The programme includes classroom training, e-learning, simulation modules and in-store job learning.
Length of Agreement
A 7-Eleven Store Agreement is typically 10 Years, unless limited by an earlier expiry of the property lease. All rights and obligations of 7-Eleven and the Franchisee are set out in the Store Agreement.
About the Opportunity
Be the Leader of your own Success!

A 7-Eleven franchise is a partnership in success. When you buy a 7-Eleven franchise, you buy two things. Firstly, a brand name that's recognised around the world and secondly, a business system that works, one that provides more support than most other franchise networks.

The 7-Eleven franchised business model is one with a difference, because we tie our financial success to the success of our Franchisees. 7-Eleven shares in the profits, so it's in our interest to ensure that we continually work with you to meet the needs of your customers to grow sales, and to grow profits.

Our gross profit split is determined progressively and there are other shared income stream profits such as commissions.




Year Business Established
1977
Year Franchising Commenced
1977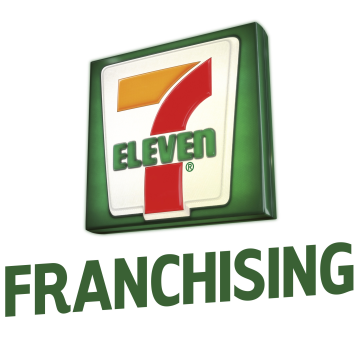 Find out more at the 7-Eleven Stores Pty Ltd Franchise Information page