Summary
Leading Parcel & Freight Reseller•Innovative Retail, eCommerce, Micro Fulfillment Technology•High Growth Market•Best Industry Customer Reviews•High-Profit Revenue Streams (24/7) Residual Income
Location Details
2/5 Farrall Rd
PACK & SEND Midland located on Farrall Rd, is part of the City of Swan Council which covers the largest local government area within metropolitan Perth and is one of the fastest growing urban corridors in Australia.
Marketing support
Your marketing support includes:

• Social media management
• Search engine marketing and search engine optimisation
• PACK & SEND website
• Website Live-Chat service
• Online customer review management
• Google Business Profile optimisation
• Digital campaigns
• 1300 Call Centre
• Point of Sale (POS) material

With the support of your Network Sales and Operations (NSO) Manager and our experienced Marketing team, all your marketing needs are covered locally and nationally.
Training provided
PACK & SEND provides 4 weeks of comprehensive initial training.

• 2 weeks virtual induction training program hosted by PACK & SEND THQ. Learn everything from strategy to technology (includes 2 practical days in a Service Centre)
• 1 week 'hands-on' practical training in a Service Centre
• 1 week of on-site training in your own Service Centre

PACK & SEND's network of experts, Operations Manual, meetings, workshops, improvement programs, webinars & National Conference are an integral part of ongoing training & knowledge sharing.
Skills
No experience in business or the freight, logistics & parcel industry is required.

If you are a creative problem solver who goes the extra mile, if you understand the importance of providing quality customer service and if you love to close sales and develop business relationships, our 'No Limits' culture and proven business model is for you! Complementing your skills in sales, business development, account management, and customer service.

Our franchise system is built for go-getters!
Length of Agreement
10 years + 10 years

In 2021, PACK & SEND joined the global family of MBE Worldwide, which includes independently owned PostNet, AlphaGraphics, and Mail Boxes Etc branded franchise service centres, spanning 2,800+ locations in over 50 countries with system-wide annual sales in excess of US$1 billion. Being part of the MBE Worldwide family assures an even stronger future for the PACK & SEND brand. You can learn more about MBE Worldwide at www.mbecorporate.com
About the Opportunity
Owning and operating a PACK & SEND Service Centre is rewarding helping people save time, trouble and money with their parcels and freight.

Over 30,000 customers have rated us, resulting in PACK & SEND receiving the 'Best Courier Service in Australia' award multiple times. Check out what customers think of our business model in the Reviews section on our website.

PACK & SEND is a leading light in franchising, being the recipient of several franchising achievements. This includes being rated a 5 STAR Rated franchise system since 2019 by FRANdata.

Some of the benefits of owning a PACK & SEND franchise are:

1. Growing eCommerce Parcel Market
Have the confidence of knowing a simple but compelling market reality; growing trade via the internet is increasing the demand for sending packed and unpacked goods via courier.

2. World Class Business Systems
You are fully equipped with the systems, resources, network, technology, and expertise to exploit the explosive growth in the transportation of goods.

3. 'No Limits' to Your Sales Growth
Literally everyone is your potential customer. From Blue-chip corporations, SMEs, tourists, backpackers, eBayers, householders and government departments.

4. Brand Strength
With over 30 years history and international retail footprint of more than 150 locations, the PACK & SEND brand opens doors, confirms credibility and attracts loyalty. Our website, Call Centre and retail network deliver you consistent enquires from day one.

5. Great Work-Life Balance
A key benefit of owning a PACK & SEND Service Centre is that you are only operating 5½ days from retail premises.

6. Earn Residual Income - 24/7
Get the best of both worlds - Online & Retail. With a combination of 'bricks & mortar' Service Centre sales and eCommerce parcel delivery sales.

7. High Profit Margin Products and Services
Many of PACK & SEND's services are operating at high gross profit margins. Transactions can gross anything from a few dollars to $80,000+

8. Low Cost Retail Business Model
Our retail business model has a low staff requirement and low non-perishable inventory.

9. Multi-Centre Franchise Opportunities
You have the opportunity to expand your footprint within the brand. We have a number of multi-unit franchise owners who acquire Service Centre after Service Centre.

10. Brand Lead Guarantee
The demand for our services is so strong, we guarantee in your first year a minimum number of people that contact you through our Call Centre and website.

Contact us to view our Brand Lead Guarantee terms and conditions.
Year Business Established
1993
Year Franchising Commenced
1994
History
Founded in 1993, PACK & SEND is an Australian success story that has experienced significant success locally and expanded its network to New Zealand and the UK. Our success over 30 years comes down to our ability to always adapt and evolve. PACK & SEND today is a technology driven enterprise operating a technology business within its operations to develop and support innovative, scalable and transferable proprietary technology products so as to provide eCommerce customer solutions, increased sales and increased productivity for our franchisees.
Awards
• 5 Star Rated Franchise System since 2019
• ProductReview.com.au Award – Best Courier 2019, 2020 - 2023
• FCA Excellence in Marketing - 2018
• FCA Franchisor of the Year 2007
• FCA Franchisor of the Year - Retail Category 2007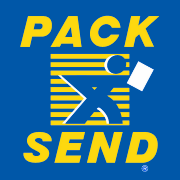 Find out more at the PACK & SEND Franchise Information page